What Is a Cloud Contact Center?
A cloud contact center is a cloud-hosted software solution offering tools, applications and services for organizations to deliver excellent customer service across multiple channels (including voice, SMS, messengers, social media and more).
Cloud contact centers often allow for sophisticated call routing, interactive voice responses (IVR), agent management and analytics. Such software is essential for handling inbound and outbound customer communications in a timely and effective manner.
If a cloud contact center supports omnichannel communications, it means your company can use multiple communication channels that will work seamlessly together and often at the same time, to provide customers with a comprehensive experience across all channels. At each stage of interaction, omnichannel communications connect all data together and help deliver perfectly smooth customer service. This way, clients can interact with brands in any way that's convenient to them, and they won't experience any issues when switching between channels.
Cloud Contact Center vs. Traditional Infrastructure (On-Premise)
Nowadays, many companies are switching from on-premise contact center solutions to cloud-based. Traditional infrastructure is rather expensive, hardly scalable, but because once it was the best option available, many companies started using it. Today, cloud communication technologies give businesses a modern alternative to on-premise contact centers. Cloud-based solutions are evolving really fast, and they offer enough capabilities to meet the needs of any company.
With a cloud contact center, companies don't have to maintain the hardware and datacenter space required for an on-premise solution. It saves them a lot of resources. Today, many on-premise contact centers are running on old legacy technology and use software that can't keep up with the way customers and businesses communicate these days.
A cloud-based contact center uses the latest communications technologies and offers many benefits to businesses who want to continually meet and exceed customers' service expectations. With a cloud-based solution, software updates and maintenance works are always on the vendor. If you're using an on-premise solution, these are the things that your company has to take care of by itself.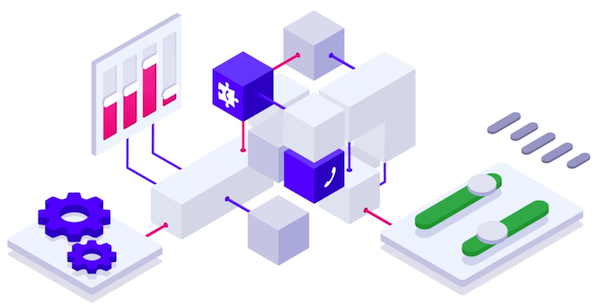 Besides, when using traditional infrastructure, you may not be able to add new channels (such as messengers that are gaining popularity very fast, chats, social media or in-app messaging). It also can be challenging to update your call routing logic. On-premise solutions make it difficult and costly to keep up with the ever-changing technological landscape. The vendors of cloud-based solutions make sure their functionality always meets the market needs.
However, the fact that vendors are responsible for keeping the software up-to-date means you don't get to decide what features should be added or how the interface should look. Obviously, you can make feature requests and ask vendor representatives to make certain changes to the product, but it's not guaranteed that your wishes will be fulfilled.
Another major advantage of a cloud-based contact center is that it can be set up and launched in a matter of minutes, often no coding is required whatsoever. This is extremely important for companies that lack developers or need new solutions to be implemented as fast as possible.
Advantages & Disadvantages Of Cloud Contact Centers
Let's highlight the pros and cons of using a cloud contact center.
Advantages of a cloud contact center:
Fast and easy implementation
Companies don't need to waste resources on installing and configuring software; developers' participation is not required, a cloud-based contact center can be launched in a matter of minutes.
Flexibility and cost-effectiveness
Depending on the needs of your customer-facing departments, you can choose what specific features you'd like to use and pay for.
Easy data backup
The data is stored on the servers of the vendor company. In case of an accident, all lost data can be restored using a backup.
Regular improvements and updates
No effort is required on your part. New software versions are released by the vendor regularly. New capabilities and communication channels are added almost every month (depending on the vendor).
Unified agent workspace
Agents can perform all of their tasks and use all communication channels in one browser window. It's very convenient and frees up a lot of time.
A variety of advanced features
Smart IVR (Interactive Voice Response), speech synthesis and recognition, AI-based functionality, voice bots and many other tools are available to you out of the box.
24/7 support
When experiencing an issue, you can always expect help from your vendor's support team and experts.
Disadvantages of a cloud contact center:
Limited flexibility
Since all development is on the provider, you can hardly participate in making big changes. You can customize the system to a certain extent, but customization options are limited.
Dependence on the Internet connection
There is no way to use the software without an internet connection.
Dependence on the developer company
The provider can change its system in any number of ways. However, most providers take into account their customers' preferences.
Should Your Business Use a Cloud Contact Center?
Do your goals include keeping up with your competitors and meeting ever-growing customer expectations? If so, then yes. Because cloud contact centers always give quick and easy access to advanced customer service technologies, a lot of companies are switching to these solutions. It allows them to provide outstanding customer service, which becomes a strong competitive advantage on any market.
Here are some interesting statistics to consider:
About 75% of companies plan to invest in automation technologies such as AI and process automation. AI, chatbots and automated self-service technologies free up call center employees from routine tier-1 support requests so they can focus on more complex tasks.
A location does not even need to be a physical contact center. As employees demand more flexibility, companies continue to explore home-based work programs. Over the next two years, the number of companies with an at-home presence will increase from 34% to 56%. That's why unified agent workspaces are going to be in great demand.
The two reasons why a cloud contact center may not suit your business are:
The data you deal with demands extra security measures
If you simply can not trust your vendor to store this data, then you will have to go for an option that allows you to do it on your company's side.
Your requirements and use cases are truly unique
If the ways that you are going to use your contact center are very rare, there's a chance you won't be able to find vendors that provide such capabilities. However, it is very unlikely.
Capabilities Of Voximplant Kit
Voximplant Kit is a full-featured omnichannel cloud contact center that your company can deploy in minutes. It allows automating and boosting the quality of customer service without coding, so no development is required (although your developers can participate in customizing the solution, if you want them to).
Everything you need in one package:
Smart IVRs for self-directed customer service resolution, human-like voice experiences
Routing of calls and messages based on agents' skills, availability, languages and other criteria (gets issues resolved much faster)
Real-time dashboard and historical reports to track your CC's performance
Ready-to-go outbound call flow templates to get you started
Visual drag-and-drop editor for designing customer interaction scenarios on a canvas
Unified agent workspace for managing omnichannel communications (chats, calls, SMS, Telegram, Whatsapp, Viber etc.)
And much more — all without any code.
Take a look at Voximplant Kit capabilities in this showreel:
Voximplant Kit uses speech synthesis technologies from leading providers (Google, Yandex, Amazon, IBM, Microsoft, Tinkoff) and offers more than 120 different voices.
Rich analytics and reporting options allow you to make better data-driven decisions with valuable insights at your fingertips. You can always get an overview of your contact center work, control and improve the performance of your agents (KPIs) and fine-tune your settings. You can also sort your agents using a metric of your choice in descending/ascending order to see the list of your most/least productive employees.
Voximplant Kit is now the most advanced and easy-to-use contact center solution for companies of all sizes. It allows for creating complex customer service scenarios and helping them go live in a matter of minutes. The service helps customer-facing departments beat their challenges and boost efficiency, and it can be launched in minutes.
Ready to start your cloud contact center and improve customer interactions? Just contact us, and we'll get you started.