Growing a business involves lots of moving parts, but no matter how large your customer base gets, customer experience (CX) should hold a top spot among your business responsibilities as your company grows.

Many companies are experiencing great growth. For example, ecommerce retailers continue to see the number of online purchases dramatically increase, and customer inquiries are trending in the same direction. Is your business experiencing a similar surge in customer communications? With such a large influx of customer communications, how do you keep up with customer demands?

Manage your customer engagement using an organized customer communications system, also known as a contact center, and keep your customer service efforts consistent, productive, and scalable.

Advances in technology continue to drive the evolution of contact centers from brick-and-mortar departments to cloud-based systems. But before we dive into the different structures, let's begin with the basics.
What is a contact center?

A contact center is a department that handles customer communications for businesses at every stage of the customer funnel. As the hub for all interactions with customers, contact centers manage communications from multiple channels, including messaging apps, social media, email, Voice over Internet Protocol (VoIP), and SMS messaging. Live agents provide assistance during the sales process, and they provide on-demand technical support to customers. Other functions include conducting customer surveys and payment and debt collection on behalf of businesses.

Many companies manage their contact centers in-house, while others choose to outsource customer contact operations to a business process outsourcing (BPO) company. From telehealth providers to food-delivery services, contact centers are an essential department for businesses across many industries.
Why are contact centers important for today's businesses?

Whether it's to get purchase status updates or step-by-step walk-throughs when onboarding onto a new product, customers reach out to businesses constantly. And when consumers engage with businesses, they're looking for quick resolutions to their queries. That's where the contact center comes in. As a company's center for customer communications, contact centers streamline the constant interactions that occur between brands and customers.


Customer communication is happening across multiple channels

The many communications channels currently available might make connecting with companies more convenient for customers, but for businesses, handling multichannel communications isn't an easy feat. Seamless customer support experiences are not just nice to have, they're expected. According to Gladly's 2020 Customer Expectations report, close to 90% of consumers expect seamless communications with a brand across channels. That's why it's crucial for businesses to have a centralized way to manage customer communication.

Contact centers provide a way for companies to develop efficient communication flows and provide consistent service to every customer.
Customers expect fast responses from brands

When consumers have a question for customer support, they want an answer ASAP. Ninety percent of consumers surveyed by HubSpot think it's important for companies to respond immediately when customer support is needed. How fast is "immediately?" Sixty percent of respondents from the same survey consider immediate to be less than 10 minutes.

You don't want to keep your customers waiting. Not getting a fast response from your company might cause your customers to think negatively about their experience with your brand. Contact centers enable businesses to nurture the brand-consumer relationship by systemizing customer communications. This organization of customer interactions lets companies stay engaged—in real time—with people at every touch point throughout the customer journey.
What types of contact centers exist?
There are quite a few different types of models that businesses use for their customer support efforts. The one that's best for your business depends on your specific goals and your customer base. Let's take a look at the different structures.
Call centers

Call centers are a type of customer support center that exclusively manage voice-only customer communications.
There are three types of call center models: inbound, outbound, and hybrid:
Inbound call center agents handle incoming customer queries, such as requests for general company information, new customer sign-ups, transaction status updates, technical support, and customer complaints.
Outbound call center agents reach out to customers for outbound sales, lead qualification, telemarketing purposes, scheduling of customer appointments, feedback about their purchases or service experiences, and proactive resolution of customer complaints.
Hybrid call centers are a combination of inbound and outbound call centers.
Despite the terms "contact center" and "call center" often being used interchangeably, there's a major distinction between the two - is it voice-only (call center) or are multiple channels used (contact center). There are two main questions to consider before implementing a call center or contact center: How will the solution be hosted, and how many channels will your business use to engage with customers?

Let's explore the first question: How will it be hosted? Historically, call centers are hosted on-premise within a business's office; the company hosts all of its own servers on-premises, and all of the hardware and infrastructure are maintained internally. Traditional on-premises infrastructure is rather expensive and difficult to scale, but because it was once the best option available, many companies started using it.

The other primary hosting option involves the call center software vendor hosting the software themselves, also known as cloud hosting. This means that the company does not have to worry about managing and maintaining their on-premises infrastructure. Today, cloud communication technologies give businesses a modern alternative to on-premises call centers. Cloud-based solutions are evolving very quickly, and they offer enough capabilities to meet the needs of any company. With the fast evolution of cloud-based solutions, call centers can move to the cloud and provide voice-only customer support immediately and agents can be based anywhere. We'll delve deeper into the functions of cloud-based solutions in another section.

The next big factor to consider when implementing a contact center is determining how many channels a company will use to communicate with customers.

Today's consumers use numerous channels to engage with brands. Since call centers exclusively handle voice communication, contact centers are the solution to meet customers' needs no matter what channel they contact the business from. At each stage of interaction, omnichannel communications connect all data together and help deliver perfectly smooth customer service. This way, clients can interact with brands in any way that's convenient to them, and they won't experience any issues when switching between channels.

While call centers are a good option for businesses that know their customers regularly prefer phone support, contact centers enable businesses to offer support no matter which channels their customers prefer to use.
On-premises contact centers

On-premises, or legacy contact centers, are the traditional models for a company's customer support department. In on-premises contact centers, customer service agents typically work in a physical location, and all of the software and hardware needed to run the center are usually stored on-site. The legacy contact center works for some businesses, but it's an antiquated solution for the modern customer support department.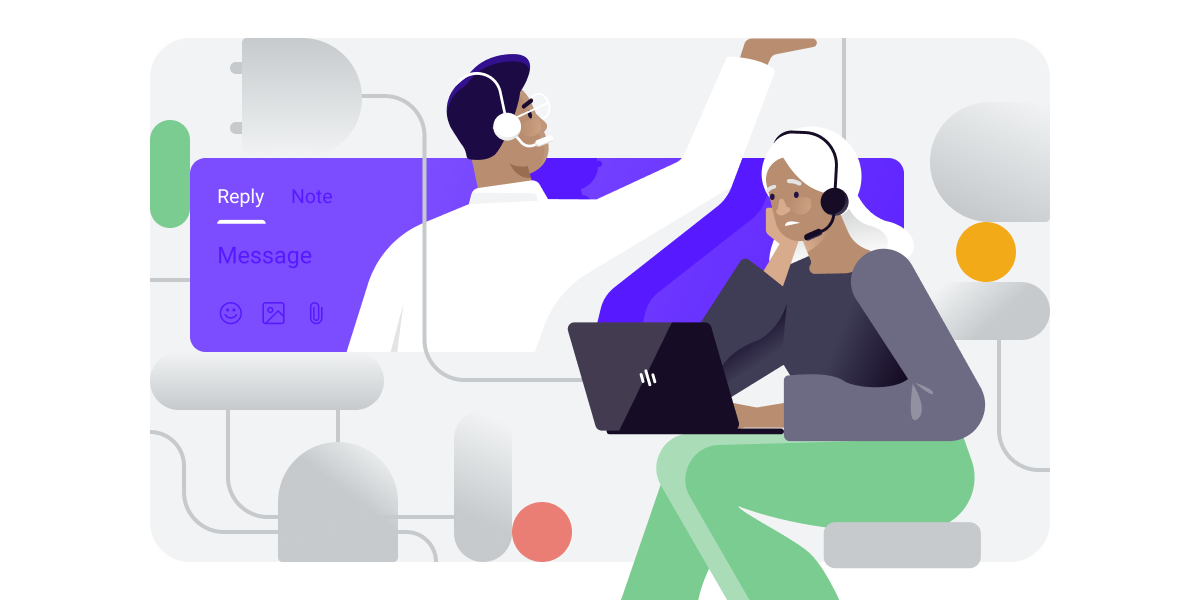 Some companies prefer to have their contact centers within their brick-and-mortar offices because it grants direct access to hardware and software with limited network exposure. Having physical control of server hardware sounds good, but implementing changes usually requires a dedicated team of developers with a high level of expertise in the company's systems. Investing in expert technical and professional services to configure, maintain, and upgrade on-premises hardware can require a lot of time and money. The total cost of ownership (TCO) of on-premises contact centers make the model a less-than-favorable solution for customer support leaders looking for ways to trim down expenses.

When using traditional infrastructure, companies usually can't add new channels (such as messengers, chats, social media, or in-app messaging). Updating the call routing logic is often challenging as well. On-premises solutions make it difficult and costly to keep up with the ever-changing technological landscape.

Not only do the expenses of running a legacy contact center make it a less sustainable option, as we've seen with the impact of COVID-19, but in addition, in-person, on-site departments aren't viable or safe options in the middle of a global health crisis.

Many on-premises departments were forced to move to virtual, location-independent models due to the pandemic, often switching to a cloud contact center. It seems that the trend will last well after the shelter-in-place orders and movement restrictions are lifted. According to a study by Nemertes, more than half of contact center managers who made the mid-pandemic shift to remote models said they'd likely continue letting their agents work from home indefinitely.

With increased costs, longer time to market, and workplace safety issues at play, companies are moving away from on-premises models and embracing cloud-based customer service center solutions.
Cloud contact centers

Cloud contact centers are web-based customer service software solutions that enable businesses to manage customer interactions across various communication channels. When it comes to contact centers, those that are cloud-based come out on top as the best choice for most companies.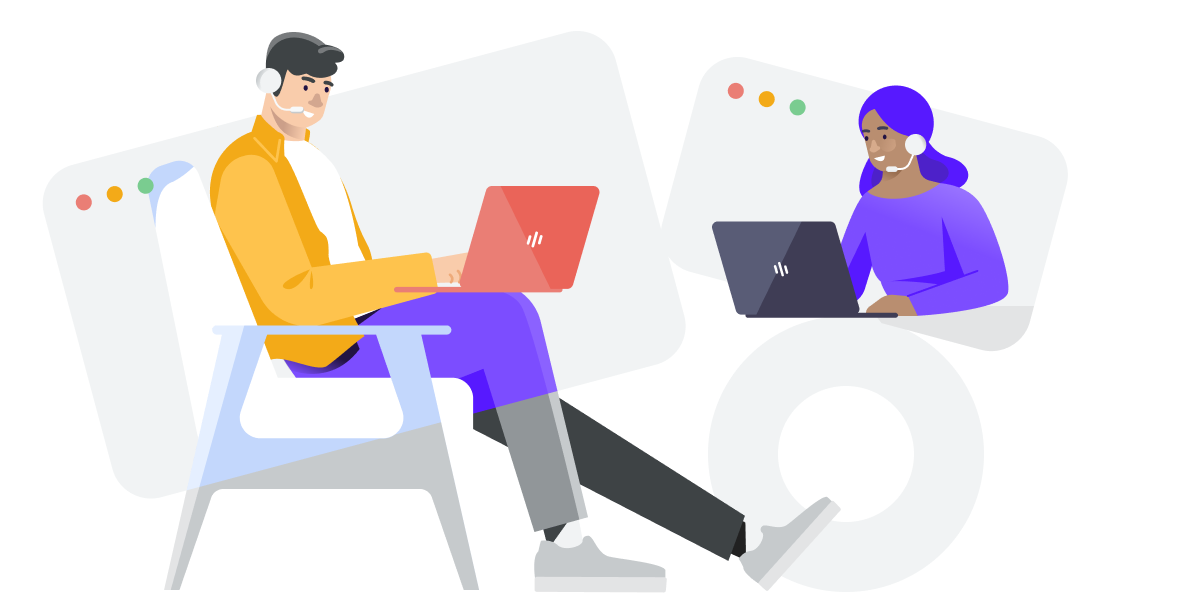 There are quite a few cost benefits of moving to the cloud. There's no physical hardware to pay for, and the rent and utility expenses are nonexistent when you're not occupying an office space or data center. Additionally, cloud contact center technology allows you to work with an adjustable budget. Many cloud-based solutions have pay-as-you-go pricing structures, which give your budget some wiggle room if you ever need to scale down your operations. The addition of any new features is typically included for free with cloud subscription-based solutions.

Cloud contact centers give business leaders more workforce management options by enabling them to expand their customer support teams beyond their geographical location. Staffing work-from-home agents in different time zones makes it easier for companies to support an international customer base because customer service operations aren't tied to a physical location.

And if there's any doubt about the security of web-based customer service software, rest assured, your company and customer data are safe in the cloud. Most cloud contact center providers comply with international data security standards, such as ISO 27001—one of the strictest standards for information security management systems.

Many cloud-based solutions require little to no coding expertise, which makes it easier and less expensive for companies to set up a customer support center from scratch or make the switch from on-premises centers.

If you do have developer resources, low- or no-code cloud-based customer support software is more convenient for developers because they can spend less time writing code from scratch. And for smaller companies without developer support, no-code options allow those companies to independently build a contact center that meets their specific needs, often through drag-and-drop editors. Some cloud-based software options have visual editors that make it easy for customer support managers to customize their contact center at any point without code.
CCaaS and CPaaS

When considering cloud contact center technology, the pre-built options are called Contact Center as a Service (CCaaS) and the build-it-yourself options are called Communications Platform as a Service (CPaaS).

CCaaS is a ready-to-go cloud-hosted software solution for customer support teams of all sizes. Through software supplied by a contact center provider, customer service departments use CCaaS technology with built-in, no-code, straight-out-of-the-box features to get their contact centers up and running with the functionality they need to deliver service to consumers on every digital platform. While a CCaaS is fast to deploy, its limited customization options lack the flexibility rapidly growing businesses require. This inflexibility means that CCaaS isn't the best option for business leaders who anticipate scaling their businesses quickly.

CPaaS supports all of the same functions as a CCaaS and often more. But instead of the premade tool kit a CCaaS provides, CPaaS solutions come with a wide selection of built-in application programming interfaces (APIs) that give developers the building blocks to create a fully customizable contact center. CPaaS solutions won't get you to market as fast as CCaaS because although they are sometimes low code options, they still require a developer to put the contact center together. The advantage CPaaS has over CCaaS is the high degree of customizability—CPaaS can be extremely flexible with a business that has developers.

Today's consumers want brands to provide personalized service during their interactions. To make that personalization happen, businesses require the ability to customize their contact center operations to meet the ever-changing demands of their customers.

CPaaS solutions offer a path to greater customization, but with the need for a bit of complex programming. No-code CCaaS solutions provide flexibility without the need for advanced development skills. No two businesses are identical, so 100% off-the-shelf solutions will rarely fulfill all of a company's needs perfectly.
The advantages & disadvantages of cloud contact centers
When you consider cost, speed to market, and having functionality that always meets the market's needs, cloud-based options beat on-premises solutions almost every time. But, to get a bit more specific about where cloud call contact centers shine and what their limitations are, let's highlight the pros and cons of using a cloud contact center.
We'll start with the advantages.


Fast and easy implementation

Companies don't need to waste resources on installing and configuring software. A developer's participation is not required, so a cloud-based contact center can be launched in a matter of minutes.
Flexibility and cost-effectiveness

Depending on the needs of your customer-facing departments, you can choose what specific features you'd like to pay for and use.
Easy data backup

All data is stored on the servers of the vendor company, so in case of an accident, all lost data can be restored using a backup.
Regular improvements and updates

Updating software requires no effort on your part. New software versions are released by the vendor regularly. New capabilities and communication channels are added almost every month (depending on the vendor).
Unified agent workspace

Agents can perform all of their tasks and use all communication channels in one browser window. It's very convenient and frees up a lot of time.
A variety of advanced features

Smart IVR (interactive voice response), speech synthesis and recognition, AI-based functionality, voice bots, and many other tools are available to you right out of the box.
24/7 support

When experiencing an issue, you can always expect help from your vendor's experts and support team.

Now, let's get into the disadvantages of a cloud contact center.
Limited flexibility

Since all development is on the provider, you can participate in making big changes in a limited fashion. You can customize the system to a certain extent, but customization options are restricted.
Dependence on the internet connection

There is no way to use the software without an internet connection.
Dependence on the software company

The provider can change its system in any number of ways. However, most providers take their customers' preferences into account.
Should your business use a cloud contact center?

If your goals include keeping up with your competitors and meeting ever-growing customer expectations, your business should use a cloud contact center. Because cloud contact centers provide quick and easy access to advanced customer service technologies, a lot of companies are switching to these solutions. Cloud-based customer support solutions allow companies to provide outstanding customer service—a strong competitive advantage in any market.

Cloud contact centers help companies provide better workplace experiences for their internal teams, too. Having the option to work from home is becoming more important to today's employees, and companies are taking note of this demand. According to Deloitte's 2019 Global Contact Center Survey, 34% of companies now have employees working remotely—and that number is expected to increase by 22% in 2021. This surge in a remote workforce will likely increase the demand for unified agent workspaces.

Adopting cloud solutions isn't all about moving away from on-premises models. Many business leaders want to leverage technology to boost efficiency. In the same survey mentioned above, Deloitte reports that around 75% of businesses surveyed plan to add automation technologies to their operational strategies. Artificial intelligence (AI), chatbots, and automated self-service technologies free up call center employees from routine tier-1 support requests so they can focus on more complex tasks.

There are some circumstances where a cloud-based customer service solution may not work for a company. If the ways that you're going to use your contact center are really unique, there's a chance you won't be able to find vendors that provide capabilities to meet your needs. While it's unlikely that there are no providers available to work with your specific requirements, if your business cannot find a vendor, you'll have to host your contact center internally or use CPaaS to build it.
4 features to consider when selecting your cloud contact center
The capabilities and complexities of every cloud-based solution vary, so carefully consider your business's particular goals, and select a contact center solution that helps you reach them. As you research and select your cloud-hosted solution, answer these questions as they relate to your business:
How quickly do you need to deploy your contact center?
Do you have the resources to hire a developer, or do you need a DIY, ready-to-use solution?
Do your customers engage with your brand on multiple platforms, or is voice their preferred channel?
Are you looking for ways to automate operations to increase efficiency and agent performance?
Once you're clear on your business's needs, you're better prepared to find a solution with the exact features that'll empower you to deliver top-tier CX. Here are some of the most valuable features you should keep an eye out for when choosing your cloud contact center.
Automatic call distribution

Automatic call distribution (ACD), or call routing, is a telephony technology that distributes inbound calls based on a specific set of criteria. Instead of calls getting answered on a first-come-first-served basis, ACD creates a more efficient call-answering system and connects a caller with either a digital self-service menu or an agent who can assist during live chat support.

Automated call routing is one of the most effective ways to increase efficiency of contact center operations. When callers with general queries are directed to self-service menus, agents aren't inundated with inbound FAQ calls and can focus on more complex customer inquiries.

ACD also lets businesses provide personalized service to customers through skills-based, smart routing. In skill-based routing, the ACD system matches customers to live agents who are best suited to handle the customer's inquiry based on the agent's skills, like their spoken language or technical expertise.
Interactive Voice Response

Interactive voice response (IVR) is technology that enables a caller to interact with a computer phone system without speaking to a live agent. A lot of IVRs aren't very sophisticated. We've all called a customer service line and heard "dial 1" for this or "press 2" for that. But artificial intelligence (AI) has turned the simple IVR system into smart and conversational IVR.

When an incoming caller connects with the IVR system, a natural language processing (NLP) system performs spoken language analysis, allowing callers to converse with the IVR in their normal speaking voice and ask open-ended questions to help resolve their issues. Smart and conversational IVR guides callers through digital self-service menus and allows customers who don't want or need to speak to a live agent to address their queries independently.
Omnichannel support

As we mentioned earlier, to keep up with the demands of today's customers, companies must offer support across every channel. If consistently delivering excellent customer service is a primary goal for your brand, then omnichannel CX is the key to achieving it. Omnichannel CX prioritizes your customers' communication preferences and allows your agents to have seamless conversations with your customers, regardless of which channel they use to engage with your brand.

A cloud contact center with omnichannel support will provide agents with a centralized dashboard of customer communications across different channels, such as voice, social media, email, messaging apps, SMS messaging, and more. The comprehensive view of all of a customer's calls and messages gives agents a complete look into the customer's interactions with the company and prevents fragmented conversations.

Many cloud contact centers take omnichannel support even further with customer relationship management (CRM) tool integrations. The cloud contact center and CRM integrations give customer service agents a more in-depth look into a customer's relationship with the company. Agents can see a customer's purchase history, any feedback the customer provided during a survey, and even any previous complaints or questions the customer raised with customer service.
Performance analytics

The ability to track your contact center's performance gives you the insight you need to make necessary improvements to your operations. It's important to find out if agent productivity is up or if customers experience longer-than-usual wait times—or worse, unanswered calls.

When researching solutions, put the ones that offer real-time monitoring at the top of your list. A good performance analytics feature will allow you to track incoming and outgoing communications in real-time and see your contact center's historical data via a live dashboard.

If you need some ideas about which metrics you should track, check out Top KPIs to Measure Contact Center Effectiveness.
Launch your contact center with Voximplant

Once you've narrowed down the solution that's best for your business, it's time to begin contacting providers. Before making a purchasing decision, do some research on the contact service providers at the top of your list. Read product reviews online, and see what other business leaders have to say about the providers you're considering.

Are you looking to deploy your contact center ASAP? A cloud-based contact center solution like Voximplant can help with all of your customer communication needs, from the simplest to the most complex scenarios.

Voximplant Kit is the modern CCaaS option—it's a no-code omnichannel contact center that's an ideal solution for business leaders who want to deploy their virtual contact centers quickly.

With Voximplant Kit you can:
Set up your cloud contact center within minutes using our drag-and-drop visual editor
Automate 80% of routine inbound calls using ACD, IVR, and AI voicebots
Get access to a consolidated agent workspace to handle omnichannel communications
Create automated outbound call campaigns to get customer feedback through phone surveys
Track and analyze contact center KPIs, like average answer time, service level, occupancy rate, and more

Take a look at Voximplant Kit capabilities in this showreel:

And if you're ready to kick things up a notch and tackle more complex communication flows, our advanced tool Voximplant Platform is a fully-featured, cloud-based solution with a suite of communication APIs to evolve your customer communications.

If you're ready to get started, get in touch for more information about how Voximplant helps businesses scale their customer communication processes!