In our fast-paced, digitally focused world, customers want personalized service at lightning speed. A Hubspot survey of 1,000 customers found that 90% of people expect a response from a live customer service agent in ten minutes or less.

Because expectations are so high, the pressure is on for customer service agents to consistently provide quick, high-quality customer experiences. Offering an elevated level of service with such a fast turnaround is next to impossible with manual support alone. And even if you have some digital tools in your tech stack, traditional contact center technology can fall short when it comes to efficiency. That's why choosing no-fuss technology that automates your contact center's routine operations is essential for making tasks more manageable for your agents.

Running a smooth operation at your contact center is crucial for both your agents' work experience and the customer experience (CX) they deliver.

Let's dig into five tactics for improved contact center operations!

1. Move call center operations to the cloud

Before the COVID-19 pandemic, many business leaders weren't convinced that remote work was a great option for their teams. Some business executives felt as though their companies didn't have the necessary tools to adequately support a remote workforce. And fears of reductions in remote workers' productivity prevented many companies from adopting work from home models. 2020 put those fears to the test.

Due to the pandemic, physical contact centers abruptly halted on-premise operations for the safety of their agents. CX business leaders had no choice but to go remote and learn how to deal with workforce management virtually. And with little time to figure out remote training, some customer support teams may have had a tough time adjusting to the new work-from-home setup, leaving agents unprepared to do their jobs effectively.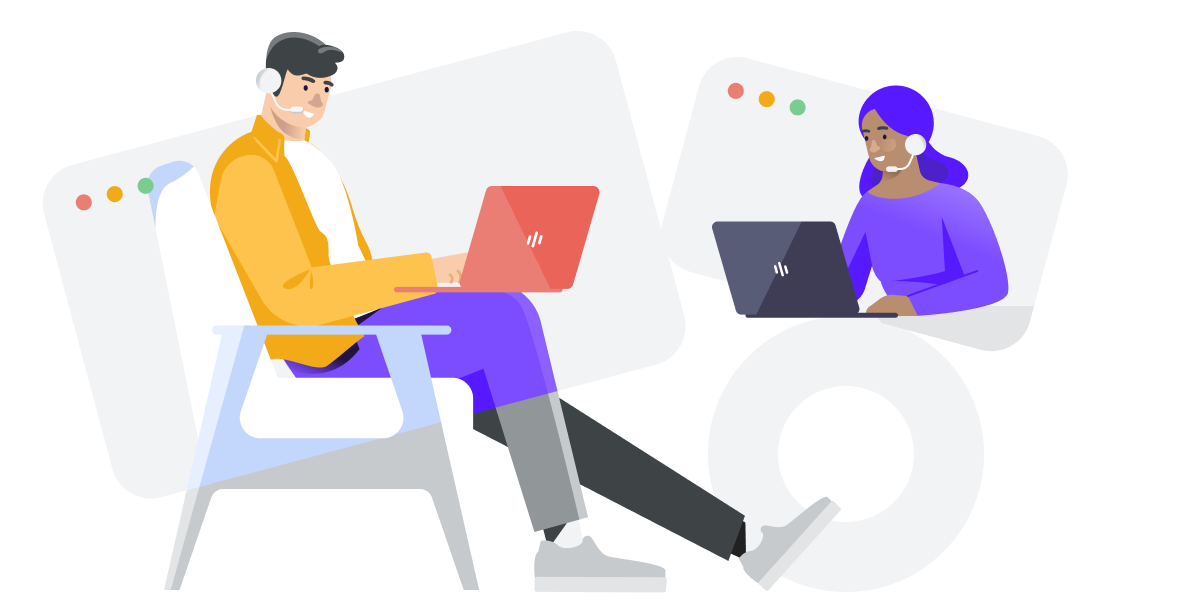 If you're worried about how a fully distributed workforce will affect your contact center performance—don't. Offering a great customer experience is possible with work-from-home agents.

Cloud contact center technology like Communication Platform as a Service (CPaaS) lets you move your team members from a physical location and give them everything they need to remotely support your customers.
You can hire contact center agents in multiple time zones, allowing you to provide 24/7 customer support coverage to customers worldwide.
You'll likely see significant cost savings as you're no longer paying for expenses associated with a physical location, like rent, utilities, and on-premise hardware.

You'll have happier agents. A survey of 1,200 U.S. workers found that employees are 22% happier working from home full-time than their in-office counterparts.

There are quite a few CPaaS options available for CX leaders today, but all cloud-based contact center technology isn't the same. As you look for the CPaaS that's best for your company, it's essential to consider your contact center's particular needs. Are your agents working with international customers who speak different languages? Maybe your agents need a way to streamline multichannel customer communications. Explore the features of each CPaaS, and select a solution that gives you the flexibility to simplify and automate your agents' workflows.

2. No-code technology for communication customization

Because today's customers expect a fast resolution of their issues, your agents must be ready to provide an excellent CX without delay. To minimize setbacks, opt for a no-code contact center solution. Using no-code development tools, you can set up and launch a cloud contact center in minutes without programming a single line of code.

Some cloud center technology software requires programming expertise to implement specific automated features, like chatbots, digital self-service menus, automatic call distributors (ACD), and so on. In most cases, a contact center leader must hire a developer to build these custom features. This custom software development can cost anywhere from $75 to $175 per hour, depending on your company's size and project.

Choosing a no-code CPaaS saves you time and money because you can go the DIY route with easy-to-use building blocks. Our no-code platform Voximplant Kit offers an intuitive drag-and-drop visual editor that anyone can use to customize their cloud contact center. You'll have your agents set up and ready to go in no time.

Voximplant Kit's visual flow builder lets you set up outbound call campaigns and categorize your call scripts by department or author.

You can also save time by tapping into our template directory when you want to process incoming calls or launch a call campaign. In the Template gallery, you can select from various outbound call scenarios, like "discount offer", "debt notice", or "invitation to an event". Editing, duplicating, and maintaining our fully functional templates are a breeze in Voximplant Kit.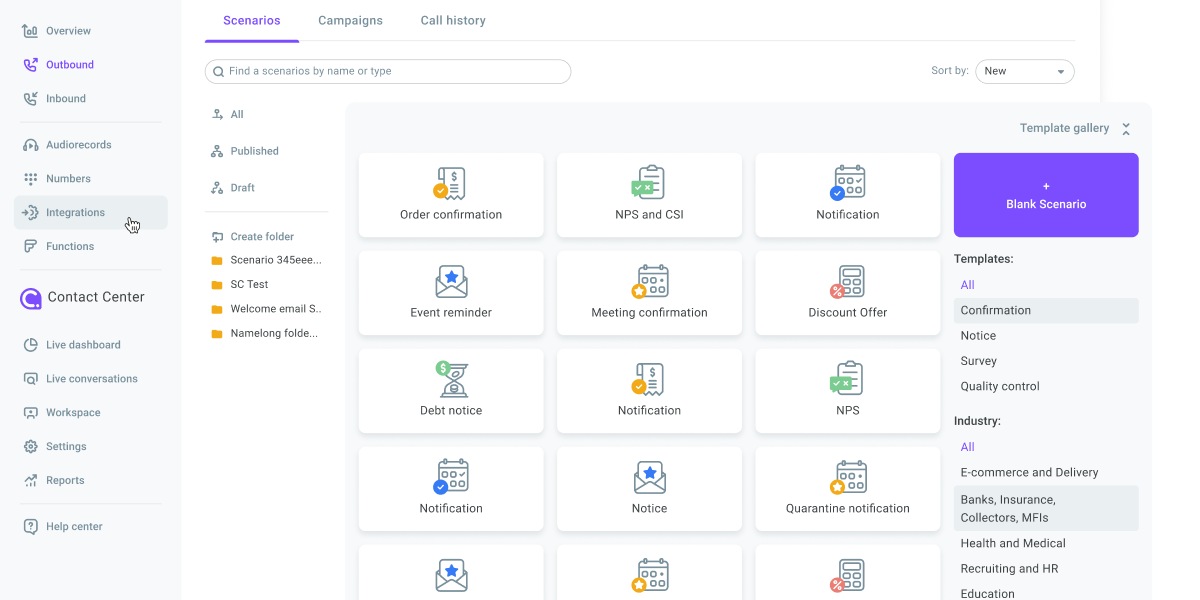 A view of Voximplant Kit's outbound call scenario templates.

The flexibility of a no-code cloud contact center allows you to launch efficient and customized workflows. Seamless communication flows allow your agents to deliver a first-class CX during every customer interaction.

3. An omnichannel solution organizes all communication channels in one place.

Customers connect with companies through many different communication channels these days. But without a way to organize customer data across these digital channels, agents' communication workflows can get messy. When that happens, agent frustration goes up, while agent satisfaction crashes down.

That's why choosing a CPaaS that offers an omnichannel customer experience is vital. An omnichannel cloud contact center puts all of a customer's communication history in one place on the agent dashboard. This interface gives agents a fuller, more detailed view of the customer journey and keeps agents from wasting time piecing together customer conversations across channels.

Voximplant Kit offers the comprehensive omnichannel customer view your agents need. On the platform's dashboard, agents have access to customer communications from phone calls, text messages, messaging apps, on-site chat, social media, and email, all in one window.

While handling a query, agents can simultaneously communicate on different channels and offer personalized assistance by accessing customer information from every platform. Agents resolve issues faster, customers don't endure long wait times on calls or chats, and both parties leave the interaction satisfied.

4. Use AI and IVR Technology to create seamless workflows

The wide-ranging capabilities of omnichannel contact centers mean there's a lot of data on deck. Every business collects data differently. And there's no standard for tracking this contact center information. But with the right CPaaS, you can have a comprehensive view of the data and gain insight into how well your agents handle their workload.

With a CPaaS that lets you monitor your contact center's activities in real-time, you have access to accurate contact center performance analytics. You can peer into agent performance and make informed decisions to improve operations.

CPaaS performance statistics allow you to keep track of contact center key performance indicators, like call abandonment rate or cost per contact. And if you're interested in tracking agent performance but aren't interested in getting bogged down in the numbers, Voximplant Kit lets you see how your agents are working in real-time with live call logs.

The information from live call logs can show you:
What an agent's average call length is
The amount of answered vs. unanswered calls
How many calls sit in an agent's queue
The length of time calls in the queue stay unanswered
Track this information to measure workflow efficiency, get better equipped to discover your agents' productivity blockers, and extend support to them when necessary.

5. Create seamless workflows with artificial intelligence

Agents deal with a high volume of both inbound calls and outbound queries daily. Trying to get through every question one at a time is the biggest time-suck in contact center operations. The automated features in CPaaS solutions help agents work more efficiently by filtering high-priority inquiries to live agents.

For example, many cloud contact centers come equipped with smart, conversational, interactive voice response (IVR) capabilities that take customers through digital self-service menus on a call or with a chatbot. Customers won't be directed to press certain numbers to make their way through the self-service menu. Conversational IVR lets customers go through self-service menus using natural dialogue as if they were speaking with a human agent. This way, customers with routine questions can resolve their issues independently without a live agent getting involved.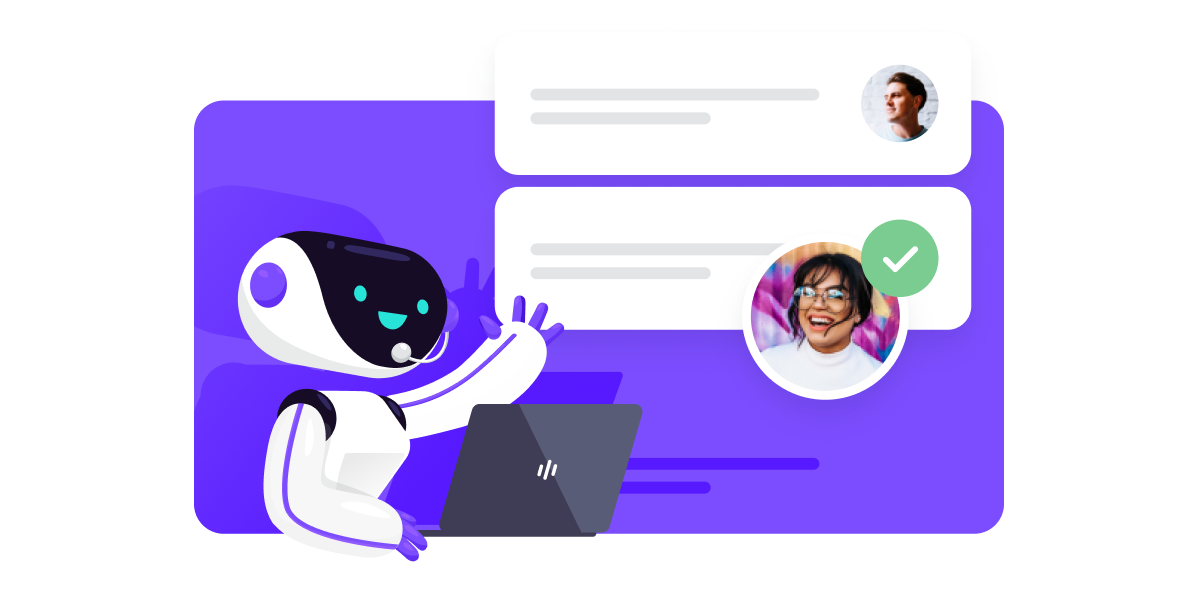 Illustration of customers conversing with a smart IVR bot during customer service calls.

Through smart, skills-based routing features, calls are either routed to a digital self-service menu or assigned to a live agent based on the complexity of the issue and the customer's specific needs.

Voximplant Kit comes with an AI-powered voice bot that lets you automate 80% of your contact center's routine calls. The built-in smart IVR technology detects 80 different languages and handles natural language processing, so callers can converse with the voice bot in their natural speaking voice. And if you want to give your brand a signature sound, you can pick an IVR voice that best suits the voice and tone of your company—there are 248 IVR speech synthesis options for you to choose from.

Automate more of your agents' workflows, so they can spend less time answering simple FAQs and more time focusing on complex issues.

Level up operational efficiency and agent satisfaction with CPaaS

Happy agents are the driving force behind a positive customer experience. As you adopt more tech into your business processes, remember to consider the specific features that will help your agents help your customers. When agents have tools, like the flexible no-code solution Voximplant Kit, that empower them to do their jobs well—it's an all-around win for your business.

And once you've figured out how to run your contact center more efficiently, think about other features you'd like to incorporate. Additional capabilities, like programmable voice, messaging, and video, are possible with our advanced CPaaS solution, Voximplant Platform. With Voximplant Platform, you can boost your contact center's performance and productivity by tackling more complex communication scenarios.

Ready to give it a try? Contact us and get started with a free trial!