Today's consumers communicate with businesses on a host of different channels. There's voice, video, email, mobile apps, and messaging platforms, and let's not forget social media. Whether your customers reach out on three channels or ten, it's your job to make every customer interaction seamless and free of frustration. That's where omnichannel customer experience comes in.
You can achieve customer satisfaction for your "everywhere" customer by creating a cohesive engagement experience across all channels. Might sound tricky, but with the right tools, providing great omnichannel service to your customers is easy.
What is an omnichannel customer experience?
Omnichannel customer experience (CX) occurs when a business creates a seamless interaction for customers who communicate on multiple channels throughout the customer journey. Good omnichannel CX strategies ensure that customers have the freedom to decide where they'd like to engage with a brand, without the worry of a disrupted communication flow as they switch between channels.
Unifying multiple different communications channels takes some work, but the positive impact on your bottom line makes omnichannel service worth the effort. According to Omnisend's Marketing Automation Statistics 2019 report, customers who can seamlessly interact with a brand on at least three different channels spend 13% more than their single-channel counterparts.
Are Omnichannel and Multichannel CX the same thing?
Not exactly. There are notable differences between omnichannel and multichannel CX: connectivity and consistency.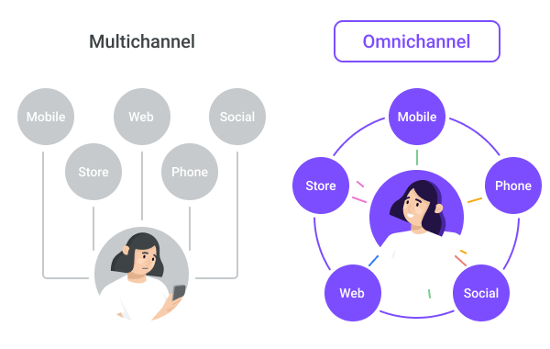 Multichannel customer experience compared with an omnichannel customer experience
Let's take a hypothetical walk through a typical customer journey. Think about the steps you took to make your last major purchase:
You're subscribed to a brand's email newsletter and receive the latest sale announcement in your inbox.You've also opted in to receive SMS notifications, so you may have received a promo code or read a sale announcement about a particular product.
From one of these messages, you click through to the company website to research a particular product.
To check out what other folks have said about the product, you do a bit of social media sleuthing. Convinced by the reviews in the brand's social media comments section, you go to the company's mobile app and make your purchase.
Post-purchase, if something goes wrong with your order, you will contact the brand via email, direct message on social media, an on-site chatbot conversation, or by phone.
In the example above, you, the customer, interacted with the company via at least six different channels at various touch points (email > SMS > company website > social media > mobile app > voice/phone). Your engagement with the brand probably felt like a smooth experience if you could easily access links to every subsequent channel from the previous one. And if your interaction with the brand remained seamless, the customer service agent knew everything about your purchase and engagement history when you reached out post-purchase. This is an example of an omnichannel customer experience. All of your communication across every platform synced, and you could switch between channels with ease.
On the other hand, you may have hunted down links to each channel on your own. And when you spoke with a customer service agent, you recounted your entire engagement experience, starting at touch-point A. If that's how your interaction went down, you had a multichannel customer experience.

In multichannel CX, all communications happen independently of each other and rarely connect. People can reach a brand on multiple channels, but the company isn't focused on making communication a seamless experience for its customers. The worst part? Inconsistent customer communications open the door for unhappy customers and, ultimately, purchase abandonment.
Challenges with providing an omnichannel customer experience
A lot of companies make sure they have a presence on every digital communications channel, and that's it. It takes a few more steps to ensure that customers who reach out to you on multiple channels always have a smooth experience when they engage with your brand.
But moving from multichannel communications to omnichannel communications isn't always so simple, for a number of reasons.
There are always new communication channels to adopt
As soon as you get your business on the latest communication platform, a new one springs up and gains popularity. New messaging apps and social media platforms launch and grow rapidly all of the time.
The rush of new platforms adopted by customers makes it hard for companies to keep up and integrate these new channels quickly. Businesses trying to stay ahead of this influx may struggle to sign up for all of the new platforms in a timely manner. And effectively tracking new platform login information for agents could also be a hassle. With every added channel, business leaders must figure out how to keep all new communications streamlined so as not to disrupt a smooth customer service experience.
Keeping up with the different communication styles across platforms may also present a challenge. Young TikTokers, for example, don't communicate like the GenX crowd on Facebook.
Hunting for customer data in multiple places is frustrating
Once you've made it easy for customers to connect with you everywhere, organizing all of the information from their engagement with your company is crucial. Trying to simultaneously provide support on different channels gets tricky. Agents have to switch between channels, and finding their place in a conversation eats up a ton of time. Without a full view of your customer communications in one place, you're not setting your agents up for customer service success.
When agents don't have a full view of customer data, they have to search for scattered parts of customer conversations across platforms. Then they have to figure out how to piece all of the details together to help the customer. This often results in agents asking customers to repeat information they've already provided.
The end result? Increased agent frustration and decreased customer satisfaction. According to Zendesk's Customer Experience Trends Report 2020, over 40% of surveyed consumers consider having to repeat their information multiple times part of a bad customer service experience.
Use a CPaaS solution to manage the omnichannel customer experience
With communication platform as a service (CPaaS) solutions, you have the flexibility to efficiently organize your communications workflows. And no-code CPaaS options take the complexity out of implementing cloud contact center technology by reducing learning curves for agents — making the tools accessible to everyone on your team, not just developers.
Your customers are adding new digital platforms to their communications stack. It's only fair that you bring in a digital CPaaS solution like Voximplant to stay one step ahead and create the best omnichannel customer experience possible.
Manage customer data across channels in one interface
Save both your customers and your agents from trying to piece together a fragmented conversation with a CPaaS solution that gives you a single view of your customer. Many provide a centralized dashboard that keeps calls and messages from different channels organized so your agents have a full view of customer data.
With an automation tool like Zapier, you can build customer relationship management (CRM) integrations for a holistic view of customer data, giving agents all of the information they need to have productive conversations with customers.
Speed up and personalize your customer service efforts with ready-to-go automation
Your agents lose a lot of time manually switching between channels in an effort to stay on top of multiple customer conversations on a number of different channels. Agents spending their days channel-hopping — especially for routine queries — is a major blow to your contact center's productivity.
With an automation tool like conversational artificial intelligence (AI), you can boost agent productivity and give agents the tools to answer customer inquiries efficiently.
The best CPaaS solutions for creating an omnichannel customer experience feature:
Automatic call distribution that lets you automatically route calls and messages from different channels to either a live agent or a serverless function that connects to a Dialogflow agent for both voice and text-based bots
Skills-based routing that allows you to assign incoming calls and messages to specific live agents based on assigned agent skill sets like fluency in a certain language
Application-to-person (A2P) SMS functionality that lets you reach out and send SMS messages directly to customers en masse
It doesn't matter which channel a query originates; no issues are left unresolved, and customers don't experience long wait times. More points for customer satisfaction!
Customize your cloud contact center with a no-code solution
Why is a no-code CPaaS solution important?
Trying to build an efficient omnichannel cloud contact center with particular specifications takes a ton of technical expertise. Many contact center managers aren't expert developers — they want an uncomplicated solution that suits their specific needs and gets their cloud contact centers up and running without delay.
An intuitive, no-code CPaaS allows for fast setup without the headache of stumbling through complex programming or hiring a developer — saving you time and money. No-code options are easy to use and quick to learn, giving your agents the tools they need to provide excellent CX from anywhere, to anyone.
Regardless of how many new channels pop up, you'll be ready to quickly connect with your customers, anywhere, with a flexible, no-code CPaaS solution. Easily customize your cloud contact center with automation and efficient communication flows to fit your business's omnichannel needs.

Meet your customers wherever they are with Voximplant
It isn't enough to be on every channel. Consumers expect businesses to stay a step ahead and seamlessly engage with them wherever they reach out.
You could spend time and money searching for a solution to help build an omnichannel cloud contact center to suit your needs. Or you can try Voximplant Kit and, in a matter of minutes, launch your customized contact center and empower your agents with the right tools. Voximplant Kit helps you provide the omnichannel CX your customers expect.
With Voximplant Kit you'll have access to:
Smart IVRs for self-directed customer service resolution, human-like voice experiences
Skills-based routing of calls and messages to help personalize the customer experience
Real-time dashboard to track your CC's performance
Ready-to-go outbound call flow templates to get you started
And much more — all without any code.
Or, if you want to take things to an even higher level with deeper customizations, check out Voximplant Platform. The Voximplant Platform offers more advanced features for your more complex communication flows. Outbound SMS campaigns, peer-to-peer video chat, multiparty conferencing, and much more are available to you with our full-featured communications platform.
Once you create an omnichannel customer experience for your customers, remember to arm yourself with data and stay on top of your contact center's performance. Keeping track of the right metrics will help you determine the success of your omnichannel strategy.
If you're ready to get started and be there for your "everywhere" customer, reach out to us and launch your contact center without delay!