Forced indoors by the COVID-19 pandemic, more consumers than ever are filling up their digital shopping bags than ever. US online sales rose more than 31% between Q1 and Q2 of 2020, and things aren't expected to slow down anytime soon.
So if you run an ecommerce business, get ready for the influx of customer communication coming your way.
For small and medium-sized businesses (SMBs) and mid-market ecommerce retailers who wish to thrive in this changing consumer climate, now's the time to turn your customer experience (CX) strategies into a competitive advantage. Adopting the right contact center technology to keep your contact centers running smoothly across communication channels will have a massive, positive impact on average order value (AOV), customer lifetime value (LTV), and revenue.
Cloud contact center technology such as communications platforms as a service (CPaaS) is the cost-savings, pandemic-proof solution that helps you consistently and efficiently handle customer communication. A flexible CPaaS solution helps you create strong omnichannel communication workflows and allows you to show up, stay present, and consistently deliver great service to everyone on every channel.
The challenges ecommerce contact centers face
Today's consumers are demanding. They want to connect with businesses everywhere, anytime.
This is especially challenging for SMBs and mid-market ecommerce companies, which likely don't have enough staff to handle the rush of orders and postpurchase support issues. Contact center managers may also lack the skills to build and customize complex communication workflows.
In an industry that's constantly evolving, you need tools that boost agent productivity and customer satisfaction without exhausting resources.
Online shoppers want today's issues resolved yesterday
"The last best experience that anyone has anywhere, becomes the minimum expectation for the experience they want everywhere."
People shop online because it's convenient. Online stores are always open, you can find anything you're looking for on the internet, and it saves time. The online shopping experience happens much faster than in-store shopping, so customers expect immediate resolution of their customer service inquiry.
Unfortunately, many customers don't feel businesses respond fast enough.
Consider one of the fastest-moving communication channels, social media. A study by Edison Research and marketing blog Convince and Convert found that less than a third of consumers were satisfied with companies' response times on social media. The study also revealed that even though 63% of social media queries were answered within 24 hours, it wasn't fast enough for some folks. Consumers want a one-hour turnaround on their customer service requests, but most businesses clock in a response time of five hours.
As online sales continue to surge, it doesn't help that a high volume of inbound requests can lead to long wait times or unattended queries. This doesn't bode well for overwhelmed ecommerce contact centers.
Like Bridget van Kralingen, senior vice president of IBM Global Markets, said, "The last best experience that anyone has anywhere, becomes the minimum expectation for the experience they want everywhere."
As businesses across industries work to stay ahead of the curve, ecommerce retailers must work to meet and surpass the standard for high-quality CX.
Creating a unified experience across multiple online sales channels is hard
Customers have access to businesses via websites, mobile apps, social media, voice, and email and will have access to any new channels that launch in the future.
Having so many ways to reach companies is great for consumers. But when contact center agents don't have a comprehensive view of customer data, it can lead to a frustrating agent-customer engagement experience. To resolve an issue on a call, customers may have to repeat information they've already shared on another channel. The agent spends valuable time attempting to piece together the fragmented data, and the customer grows annoyed. This inconsistency in service is annoying for both agents and customers.
Keeping up with customers on every channel is tricky, but giving customers a personalized and unified omnichannel customer experience is worth the effort. Harvard Business Review conducted a study that revealed that omnichannel customers spent 10% more online than single-channel customers.
Organized information is important for your contact center agents, too. Your teams aren't working together in one building anymore. But just because your agents are physically scattered in different locations doesn't mean the data and tools they need to work should be scattered too. With an omnichannel cloud-based tool, remote agents can simply log in, access customer data in one dashboard, and start serving customers everywhere instantly.
Complex tech tools slow ecommerce contact centers down
COVID-19 pushed many fully staffed contact centers from their brick-and-mortar locations to the cloud. While it was a necessary move, implementing new digital adoption strategies and launching cloud contact centers can be difficult.
Complex contact center as a service (CCaaS) solutions are often cumbersome for experienced ecommerce retailers that aren't programming experts but need to quickly get their agents set up to work remotely. They can delay the launch of cloud contact centers because they're resource-heavy. Nontechnical ecommerce teams have to dedicate time and funding to hire developers to build their communication workflows.
Not to mention, most CCaaS solutions lack flexibility. This lack of flexibility inhibits contact center customization and makes it hard for agents to provide personalized service to customers. Providing tailored offers to shoppers to increase customer retention or keeping customers engaged on the channel of their choice is tricky without the ability to fully customize your cloud contact center.
4 CPaaS features that help improve ecommerce customer service
As you look for contact center technology to level up CX for your customers, choose a CPaaS with features that'll benefit your contact center the most. Our omnichannel cloud contact center, Voximplant Kit, comes packed with easy-to-use, no-code technology that helps you provide unified and personalized customer service to customers on every channel. Let's take a closer look at the essential CPaaS features you should seek out to provide first-rate CX.
Flexible, no-code solutions
Many no-code CPaaS solutions aren't very flexible when it comes to customizing to a contact center's needs. With many solutions, you need to spend time and money to hire a developer to help connect certain automations to agent queues.
But in a moment like the present, when cost-savings and time to market are critical, you can't afford these delays. With Voximplant Kit, you don't have to.
As a true no-code solution, Voximplant Kit's drag-and-drop visual editor gives you the flexibility to create the most efficient contact center for your ecommerce business.
Voximplant Kit's drag-and-drop visual editor lets you easily customize communication scenarios
You can use the available out-of-the-box call-flow templates and campaign configurator to create outbound call surveys. Because Voximplant Kit is intuitive and easy to use, you don't need to spend a lot of time bringing agents up to speed on the product. All of that saved time can go toward focusing on improving customer service and helping your customers resolve complex issues fast.
Omnichannel functionality that supports personalization, unified experiences, and fast service
What does a limited view of customer history do to agent-customer interaction? It leaves both parties frustrated.
Don't put your customers or agents through this experience. A CPaaS with an omnichannel cloud contact center centralizes customer communication history and gives agents a holistic view of customer data.
On one interface, agents can manage customer calls and messages from a host of communications apps. This design keeps customer data together and helps agents take customers through a seamless and personalized engagement experience. Agents talk to customers on the channel of their choice and don't switch them out of their context.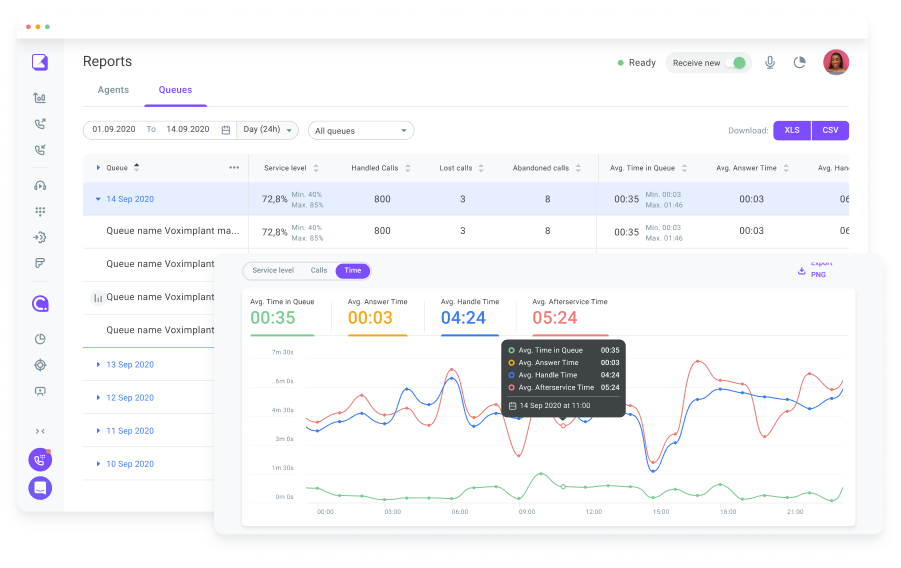 In Voximplant Kit, contact center agents have a full view of all historical call data on one interface
Voximplant Kit integrates with your customer relationship management (CRM) tool to give agents a complete view of a customer's history, all in one interface. Learn what a customer's purchase history is, how many times they've reached out to your company, and which channels they used to communicate. No more wasting precious minutes searching for data.
Built-in automation capabilities
When customers reach out to your business with questions big or small, they want answers fast. But if the only way for customers to resolve routine issues is to speak to a live agent, long wait times and unattended calls are likely to happen.
On the flip side, your agents don't want to spend their workdays continuously answering the same routine calls or speaking to annoyed customers who waited too long to get answers.
Use automation to handle the high volume of both inbound and outbound calls and boost efficiency and productivity for ecommerce contact centers.
One valuable CPaaS automation feature is artificial intelligence(AI)-powered smart and conversational interactive voice response (IVR). With IVR, callers can engage with a voice response system using natural language, in their normal speaking voice, without speaking to a live agent.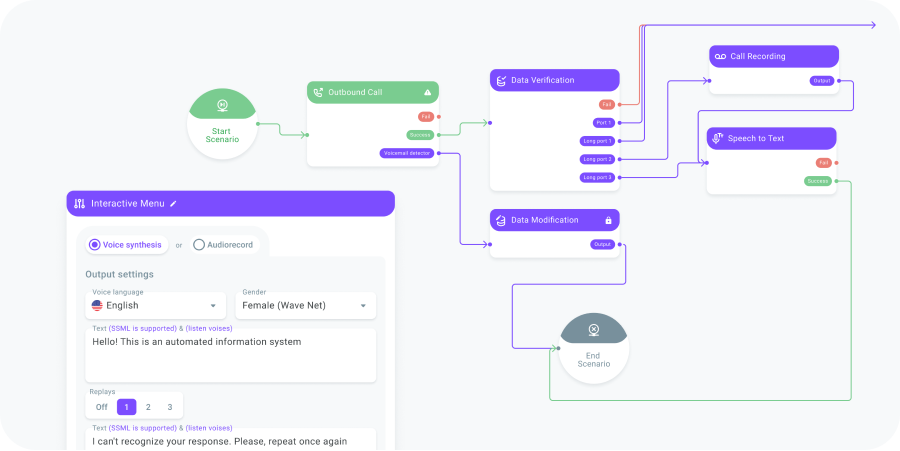 Setting up automated outbound call scenarios is easy in Voximplant Kit's visual editor
Say, for example, a customer calls your contact center for an update on order status. The IVR converses with the caller to confirm the reason for the call. Your system recognizes that the caller has an active order and is anticipating its arrival. The IVR then provides the caller with information on the current status of the order.
If the IVR's response is satisfactory to the caller, the entire query is handled without a live agent getting involved. However, if the customer needs more details, a live agent can join the call to provide additional assistance.
For high-value inquiries needing more personalized service, there's smart, skills-based routing systems. Smart routing directs routine calls to a digital self-service process for independent resolution. If a customer has a complex need and requires individualized assistance, the smart routing automation filters out that call and routes the caller to live agents with the skills to help. A customer who speaks French can speak to a human agent who speaks French and will help look into and resolve the query.
And with AI voice bots in CPaaS solutions, you can automatically collect customer feedback post-purchase or service interaction.
Through automated outbound phone surveys, voice bots ask customers prerecorded questions to gain insight into the CX you provide to consumers. The AI voice bots make the interaction feel natural to customers — the conversation is more human, less robot. And then, with automatic speech recognition, all of the customer's answers are then transcribed, which allows agents to later analyze the data in a text format.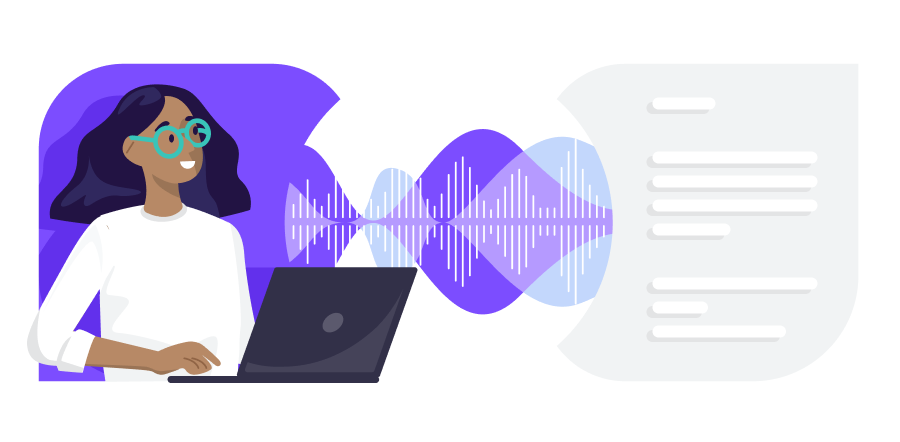 Customers can speak in their normal speaking voice when interacting with AI voice bots
With Voximplant Kit's built-in automations, you can automate 80% of your contact center's routine calls. Smart routing, conversational IVR, and automated outbound survey capabilities are right at your fingertips.
Contact center performance tracking
Ecommerce contact center managers need a clear way to measure how well agents engage with customers. A CPaaS solution that provides you with real-time performance analytics will give you the vital intel you need to inform business decisions.
Voximplant Kit's real-time dashboard lets you see your contact center's historical data. Get access to call statistics, agent reporting, and call queues.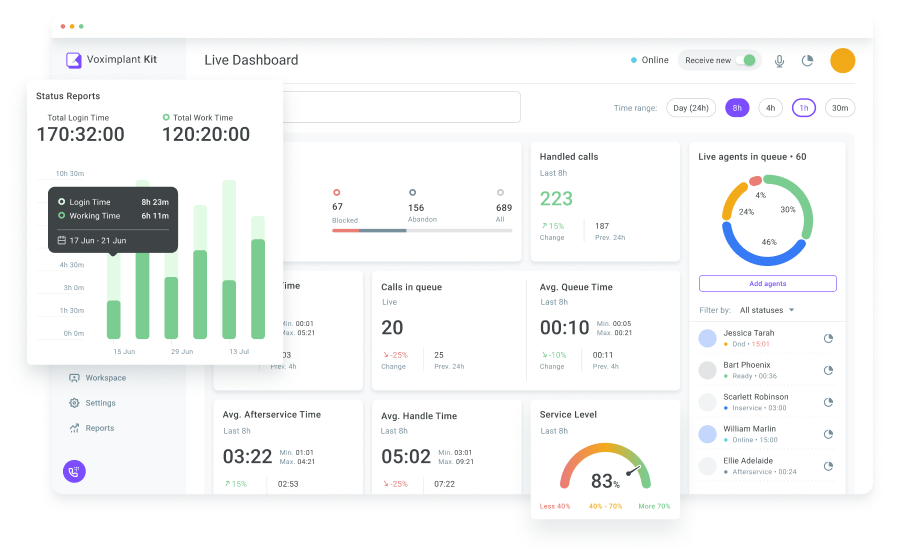 Keep track of important contact center KPIs in Voximplant Kit's live dashboard
Real-time transcriptions help you discover opportunities for improvement during agent-customer conversations. And live logs help your agents analyze calls visually without getting down in the data.
Great business decisions are backed by great data. Voximplant Kit gives you the essential performance analytics you need all in one view.
Drive business growth with easy-to-use contact center technology
Equip yourself with the right tools to level up your customer service processes and turn that into a gigantic competitive advantage.

Voximplant Kit is an easy-to-use contact center solution that empowers agents, creates a smooth experience for your customers, and boosts your business's growth. And if you're looking to scale your communication workflows, you can tap into the Voximplant Platform to access advanced features for deeper customizations.

You can get started with Voximplant Kit here. Or, if you're ready to go deeper, check out the Voximplant Platform for contact centers.