The age of digital communications offers incredible opportunities to improve customer service. Companies around the world are using cloud technologies to make their communications more flexible and highly engaging while simultaneously reducing costs and boosting revenue.
According to a survey by McAfee, 87% of companies using cloud services experience business growth. Businesses that fail to integrate cloud solutions may get left behind in competitive modern markets. CPaaS (aka communications platform as a service) is the key to making customer communications as efficient as possible.
What is CPaaS (Communication Platform as a Service)?
CPaaS is a cloud-based platform that allows you to launch real-time communications with website and application users without having to build back-end infrastructure and interfaces. Voice and video calls, group chats and conferencing, in-app messaging, push notifications, SMS, and more — all of the most popular channels you can think of are at your fingertips with CPaaS.
The main benefit of using CPaaS is getting quick access to reliable and effective communications powered by a proven, experienced provider. CPaaS vendors provide you with ready-to-use software development kits (SDKs) that typically include application programming interfaces (APIs), libraries, software tools, code samples, and even pre-built applications. It drastically simplifies and speeds up implementation and facilitates time to market. Gone are the days of time-consuming and costly development.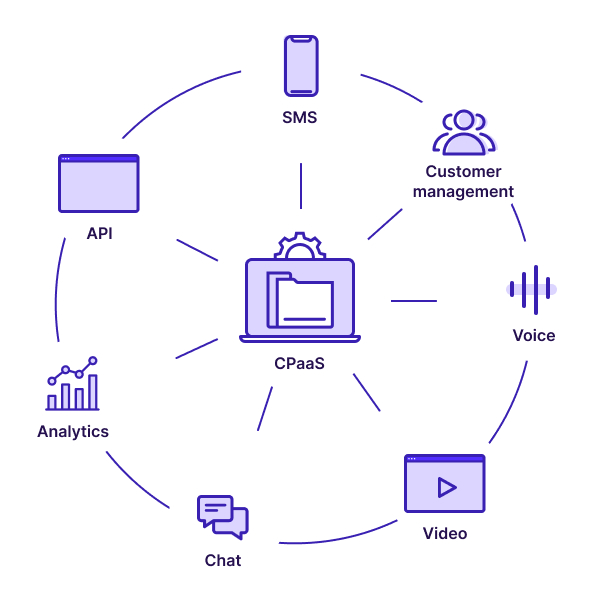 CPaaS capabilities across communication channels
It goes without saying that by using a CPaaS, you can count on the assistance of a support team that will help your business with troubleshooting and the integration process. There are also plenty of helpful how-to guides for you to be able to refer back to.

With CPaaS, the maintenance efforts and infrastructure costs are also on the vendor. Taking all of that into consideration, you're really in for great savings. No wonder so many businesses choose the services of a CPaaS. All around, it's the quickest and easiest way to give your customers the best experience available.
3 important features of a CPaaS
Besides giving you access to reliable communication channels, a CPaaS typically provides a set of advanced features to make your interactions automated, personalized, and highly impactful.
But not all providers offer the same functionality; often, there are limitations. Every CPaaS is different, but some CPaaS features are vital to business communications.
Below are some of the features you should look for in a CPaaS.
Advanced voice functionality
High-quality video communication
For cloud contact-center agents working from home, video is an essential communications solution:
Video chats are possible with high-quality video communication between web and mobile apps.
Video conferencing with dozens of participants is accomplished with programmable multiparty communications in the cloud.
Video recording capabilities allow you to record and download your sessions for later use.
Enhanced messaging capability
CPaaS solutions enable programmable messaging capabilities that help to optimize customer-agent communications across multiple channels:
Learn more about the best solutions for your industry, or chat with a Voximplant expert to see what features will benefit your business's goals and needs.
What are the differences between CPaaS and UCaaS?
Another popular abbreviation you might have seen before is UCaaS (unified communications as a service). UCaaS is also a cloud-based platform that enables you to launch advanced communications with your customers and within your organization. Both CPaaS and UCaaS are great for businesses of all sizes.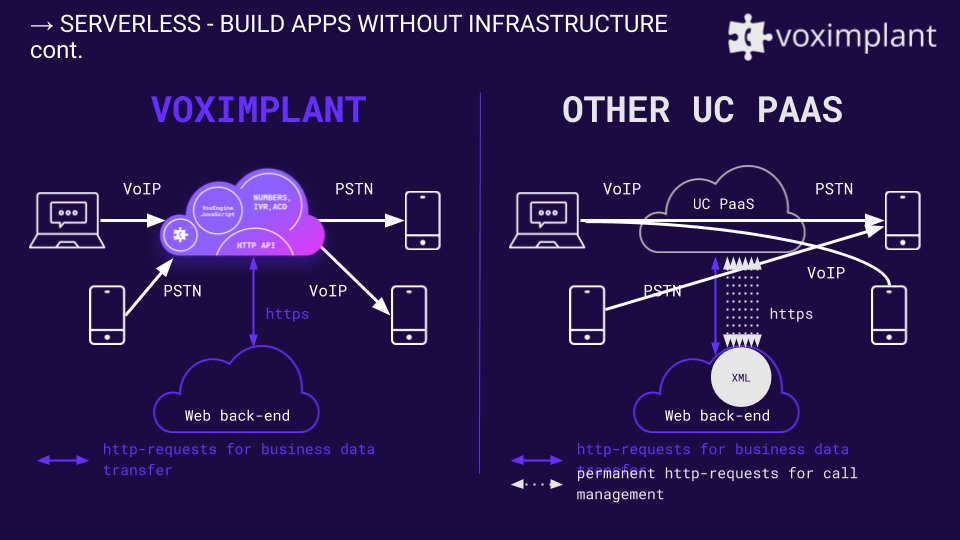 CPaaS solutions like Voximplant are more flexible cloud communications solutions than traditional UCaaS
So what's the main difference between CPaaS and UCaaS? The short answer is flexibility. While both CPaaS and UCaaS are cloud-based, CPaaS offers more opportunities for customization.
Think of it as a toy construction set: with CPaaS, you get a set of different blocks and decide which ones you want to put together and in which order. UCaaS, on the other hand, is like a ready-made tower with 10 windows and two gates. It is a complete, ready-to-use solution provided by the vendor, and any customization is an add-on that can be completed for specific needs.
The undeniable advantage of UCaaS is its out-of-the-box functionality. All you need to do is "plug it in," and it's ready to use — no coding or development required. Sometimes, this factor is important for certain organizations, especially if they lack development resources. If that sounds like your business, UCaaS is worth exploring.
However, if a flexible, highly customizable solution is your priority, then CPaaS is the obvious choice. It lets developers integrate the exact set of features you need into your communications applications to give customers the best experience possible.
5 common use cases for CPaaS
Customer-facing businesses across many industries are integrating CPaaS solutions into their workflows. Any company looking to improve customer satisfaction (CSAT), customer lifetime value (LTV), and average order value (AOV) can benefit from the flexibility and efficiency CPaaS solutions provide.
For businesses in any field, low-code and no-code CPaaS solutions make it easier for developers to create custom applications. Additionally, no-code CPaaS options allow non-technical teams to custom-build campaigns with drag-and-drop tools.
At this point, you're probably wondering how your business can make good use of CPaaS. CPaaS helps scale communications workflows for businesses in any sector. Companies in the fintech, booking, marketplace, delivery spaces and more can all take advantage of the flexibility and speed to market that CPaaS offers. And with its growing global popularity, there are multiple CPaaS success stories and use cases from different industries.
Improved ecommerce customer experience
The recent surge in online shopping presented an opportunity for retailers across all markets to add more digital tools to their business processes. To maintain and improve the customer experience for their shoppers, brick-and-mortar and ecommerce retailers leverage CPaaS to engage with buyers.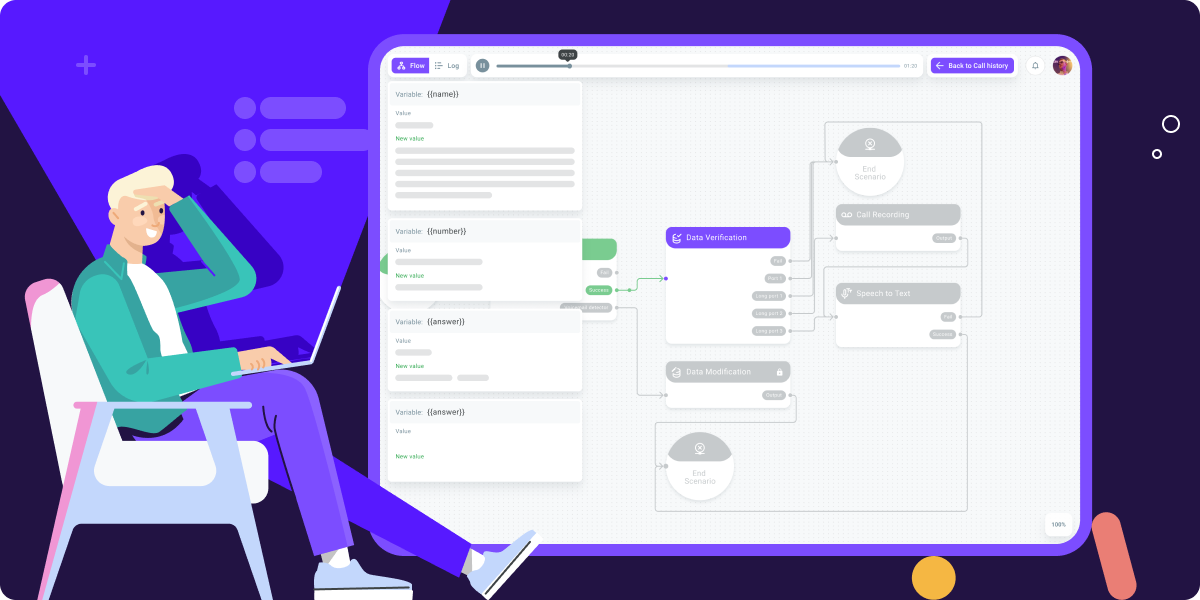 CPaaS automation features for call processing allow contact center agents to easily manage customer support issues
At different touchpoints in the buyer's journey, contact center agents communicate with customers to provide store updates, resolve customer inquiries, and send notifications. For outbound call center teams, the automation options CPaaS provides helps increase agent productivity and occupancy rate.
Secure virtual access to health care
As healthcare practitioners embrace more digital tools in their practices, telehealth providers use CPaaS to provide care to their patients in a virtual setting. CPaaS solutions allow health care providers to consult virtually with patients via video, share information with patients via SMS, and monitor patients remotely.

CPaaS solutions help medical practitioners virtually consult with their patients
Efficient call center management
We've worked with many businesses to build efficient CPaaS solutions for their call centers. Leading global brands, including Hyundai, KFC, Burger King, S7 Airlines, and Sberbank, rely on our CPaaS to achieve high levels of customer service.
We ensure that a company's call center:
is available ​​24/7;
is integrated into the company's CRM;
supports call routing, tracks call duration, bans spam calls, masks phone numbers, integrates voice bots, and more;
has regional phone numbers; and
is able to manage any number of inbound calls with the help of intelligent routing.
Airlines always handle high call volumes and definitely need a stable and efficient call center infrastructure. S7 Airlines achieves this with smart call routing using smart IVR.
Customers can reach S7's call center directly from the company's website or mobile apps by clicking on a call button. After that, all calls are sent to the IVR system. Once the request topic is determined, the call is redirected to an operator from the appropriate department. S7 Priority members calling from the app or the website are able to use a dedicated line that bypasses the IVR system. Incoming calls can be recorded on request.
"Within the five-year history of our collaboration, I cannot recall any major technical problem." — Egor Bayandin, DD for Technological Development
Banks are also quick adopters of cloud-based communications. Sberbank is the largest transnational and universal bank of Russia and Central and Eastern Europe. Its call center receives more than 20,000 calls a day. Sberbank increases efficiency in its call management processes with the help of AI.
At first, a virtual operator, Anna, advises a customer about the nearest ATM/bank branch address. After that, a virtual assistant is assigned to an operator. In the course of a dialogue between an operator and the customer, online transcribing (speech recognition) of the customer and research on possible solutions take place. The robot provides the operator with relevant information about the client's issue.
The result? Seventy percent of calls on the issues covered by the service are now transferred to a voice assistant. Seventy seconds is the average servicing time by Anna, which is four times less than the bank's previous system.
"To test speech analysis technology and its application to our bank, we chose Voximplant. This platform possesses the necessary features to enhance customer service and operator efficiency." — Yegor Sivkov, Chief Analyst of Corporate Customers 360 Division
The result? 70% of calls on the issues covered by the service are now transferred to a voice assistant. 70 seconds is the average servicing time by Anna, which is four times less than their previous system.
Learn more about AI for Sberbank call centers here.
Scalable marketing automation
Conducting surveys, delivering transactional and promotional information, reminding customers about important actions and order details — all of this requires automation for the highest efficiency. Many of our customers, such as Home Credit Group, use Voximplant to automate their marketing activities.
Home Credit Group is an international consumer finance provider with operations in 10 countries. After a visit to the bank's branch, a customer receives a call from the automated quality-control service. If a customer gives the experience a low rating, their contact details are loaded in the predictive dialing system to which all bank managers, including top management, have access.
"We contacted Voximplant and, within a month, we had a separate call center for executives. We've implemented this service for approximately six months now and we're impressed by the results." — Elena Efremova, Head of Customer Care Division
Learn more about how HomeCredit Group automates its marketing here.
Streamlined human resources management
There are multiple ways to facilitate and improve essential HR processes using CPaaS. Candidate verification, interviews, recruitment, onboarding, and more can be done efficiently with Voximplant.
Burger King, the leading global fast-food chain, facilitates recruitment with our CPaaS. Voximplant conducts robot-aided screening of job applications received by the Burger King HR Department. Applications received from the website or telephone hotline are automatically directed to Voximplant.
The robot calls an applicant or answers an incoming call. If the number is valid, and the candidate is searching for a job, the robot asks standard questions from a script. During the screening, the robot determines if the candidate fits the job description. If the decision is positive, the call is redirected to a human operator.
The result is 1.5x increased conversion for qualified candidates, 1.5x reduced costs to recruit, and a fivefold reduction of costs as a result of automating the recruitment process.
Read more about the solution for Burger King here.
Another company that uses CPaaS to facilitate HR processes is Leroy Merlin, a French retailer specializing in selling products for home and garden improvement. To enhance their employees' career development, the company launched Talent Booster, an international development program for future leaders.
To streamline communication between the HR team and other employees worldwide, Voximplant created a solution for long-distance video interviews to be conducted within established parameters.
"The video interview service designed by Voximplant fully corresponded with our required functionality. It allowed us and our colleagues from other countries to conduct a high quality assessment of skill sets of employees taking part in the program. The service was integrated into the recruitment platform, which streamlined the evaluation and decision-making processes." — Yevgeniya Agafonova, Head of Career and Potentials Development
Learn more about the solution for Leroy Merlin here.
How to choose your CPaaS provider
We've already talked about the different feature sets provided by various CPaaS vendors. However, there are many other traits you should consider when choosing service providers. These include pricing models, a variety of APIs, vendor's reliability, and more.
Keep the following tips in mind when shopping for a CPaaS provider.
Research the selection of available APIs
The main thing to pay attention to is the communications APIs that a CPaaS provides. A broad choice of APIs allows web and mobile developers to swiftly enable new functionality, such as SMS, push notifications, chat, speech recognition, AI, video, and more.
Consider the features your company needs, and check the availability of the corresponding APIs. If you want to implement phone-to-app calls next month, are you going to have to add a second vendor to get the support you need? Does the vendor's offering align with what you're trying to accomplish?
Look into a provider's case studies and customer reviews
Are there any service disruptions or product downtime? It's often difficult to evaluate the vendor's reliability before you start using their service, but there are ways of learning from other companies' experiences.
As simple as it sounds, a vendor's customer base is a good indication of their platform's stability and reliability. If available, take a look at the vendor's case study page. Are there big names on the provider's client list? What do the vendor's customers say?
How long has your potential vendor been on the market? Established providers are more likely to have a reputation for being reliable and stable.
If a particular CPaaS vendor generates a lot of positive buzz in active user/developer online forums and communities, it's a good indication that the vendor can be trusted. Developers are encouraged to share best practices and become more skilled with the platform to implement its features fully.
Additionally, check to ensure that the vendor is compliant with data safety standards. Can you trust the provider to ensure your data will be safe and secure? Consider established standards such as ISO 27001, GDPR, and SOC2.
Compare the various pricing models
Last but not least, study the pricing models that different vendors have. When considering the value you'll get for the CPaaS solution's cost, pay attention to limitations applied to features, number of supported devices, monthly active users (MAU), etc. You can often either pay only for specific features and channels or buy an entire solution for a fixed price. It's better to talk to the vendor's sales representative to know what pricing model would be the most beneficial for your business.
Once you've looked into the criteria above and found a CPaaS vendor that seems to meet your requirements, you should contact their representative and discuss your potential partnership.
You may forget to consider or overlook important details regarding the service. Talking with the vendor will allow you to gain a complete understanding of how CPaaS capabilities can help your business. You'll get guidance through the integration process, gain access to any resources required, and receive additional support.
What to expect from CPaaS in 2021 and beyond
CPaaS solutions continuously evolve to keep up with the demands of a fast-paced market. Customer-facing businesses in most sectors are consistently adding digital solutions to their workflow tool kits. These days, consumers use multiple platforms to engage with companies. The rise in remote work and distance learning makes video conferencing essential.
Although we engage with digital tools more frequently, the human experience is still paramount. Finding communications solutions that get businesses to market quickly is important. This means producing a less complicated development approach that allows for easy integration of new CPaaS features.
No-code programming
Businesses continue to embrace and integrate digital tools to handle routine workflows. The CPaaS market is expanding, and businesses of all sizes want to adopt digital applications to scale their communications processes. It helps when these digital tools are labor-saving and cost-effective, too.
No-code CPaaS applications and programs lower the barrier to entry for non-developers by democratizing access to communications technology. The no-code, drag-and-drop approach to building programs enables non-coders to customize and maintain less complex applications without hiring a developer. This is in contrast to UCaaS solutions that don't allow for the same flexibility.
No-code builders are also beneficial to developers. No-code tools allow developers a faster way to program complicated applications. Starting with no or low code preset options gives programmers a head start when creating more involved software programs.
Omnichannel communication
With communication now happening via multiple communications channels, customers can engage with businesses on many different platforms. The days of businesses fielding customer service inquiries from only phone calls and emails are over.
A customer may begin their inquiry in a business's mobile app, follow up via email, and then decide to pick up the phone and call customer service directly to resolve an issue. People want to engage with businesses on multiple platforms, and close to 90% of consumers expect seamless interactions when they do engage.
When customers are everywhere, businesses need to meet them there. The omnichannel communications made possible with CPaaS will allow companies to engage with customers and keep track of customer interactions wherever they happen.
Increased demand for video
If the recent increase in remote work has taught us anything, it's that video is essential for virtual collaboration. More people use video on the web for communications. According to a 2020 Lifesize survey, 76% of respondents said they used video conferencing to collaborate remotely.
As more workplaces and educational institutions accept work- and study-from-home arrangements, CPaaS solutions must keep up. The demand for more on-the-web media requires CPaaS applications to support various types of video communications, such as live streaming and video conferencing.
Artificial intelligence and machine learning
People interact with smart speaker devices every day. Folks call on Siri to report the weather forecast or request that Alexa or Google Assistant play their favorite song on a loop. And even though they know they're talking to a bot, 41% of consumers feel like they're chatting with a person.
CPaaS solutions must integrate AI and ML to provide more human-like interactions between businesses and customers. One way this is accomplished is through speech-recognition technology. The integration of AI and ML allows for more human-like communication due to increased accuracy and a wider range of languages and dialects.
Explore the possibilities of CPaaS with Voximplant Platform and Voximplant Kit
For companies of all sizes and industries, a CPaaS solution is an opportunity to boost revenue and build trusting relationships with customers at a low cost. The flexibility and scalability of cloud technologies are very appealing to companies looking to improve customer service in a short time and get ahead of competitors. It's fair to say that by implementing a CPaaS, your communications will be about as efficient as possible.
Our all-in-one Voximplant Platform is a CPaaS solution designed to tackle your most complex communications scenarios with ease. The flexibility provided by Voximplant Platform allows for programmable voice, video, and messaging capabilities, all done in the cloud. Additionally, with reliable built-in maintenance and troubleshooting tools, and multiple AI integrations for speech and language, you can focus on development and accelerate your speed to market.
For businesses looking for a flexible, customizable no-code CPaaS that can be set up in minutes, our Voximplant Kit is the ideal solution. Voximplant Kit was created for teams that want to get their omnichannel cloud contact center up and running quickly, without the need to hire a developer or work their way through complicated code.
With the Kit, you can:
Use Smart IVRs to filter and automate 80% of routine inbound calls and direct customers to a self-service menu that enables them to resolve their inquiries without speaking to a live agent. This frees up your agents' time so they can provide personalized service to customers with high-value inquires.
Create large-scale automated outbound call campaigns, like customer feedback surveys or promotional announcements.
Manage and route inquiries to agents based on your agents' skill sets and/or availability with smart routing built into the contact center dashboard. For example, you can route customer inquiries in a particular language directly to an agent who speaks that language.
Voximplant Kit is a CPaaS solution that gives people without coding skills the ability to automate customer engagement cost-effectively.

Ready to get started? Get in touch, and let's have a conversation about how Voximplant can help scale your customer communications processes!