Audio calls remain the most valuable source of customer interactions and leads even in the current technology-driven settings. To meet your callers' needs, it's vital to answer quickly and address their issues efficiently. Any business can optimize this process, namely, by implementing call routing.
What Is Call Routing?
A call routing system describes a tool that processes incoming calls and directs them to a specific person or department. However, agents are not bound to phone calls only and may work with a variety of channels. Call routing systems ensure a more controlled environment for both callers and businesses. From the customers' perspective, they are given options to speak with specific departments, request a particular task, among other choices. From the company's perspective, they control attributes of how calls are forwarded, what extensions they reach, and to what magnitude they utilize caller information.
How Does It Work?
There are pre-established rules that regulate the routing process. Traditionally, calls used to be answered on a first-come, first-serve basis. With call routing, you can choose the criteria: skills needed for the issue, operator availability, time zones, language preferences, caller identification, etc.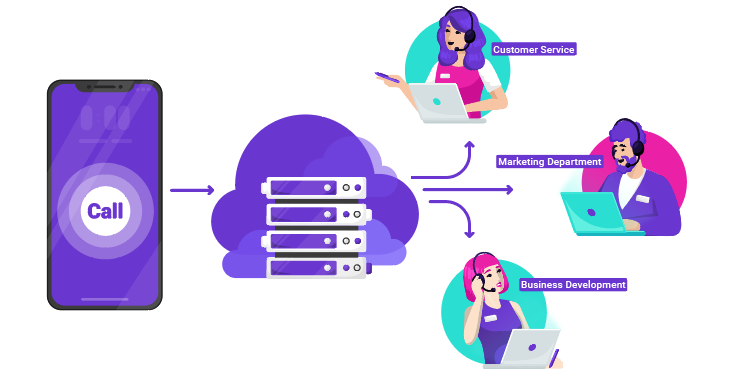 The simplest form of call routing is as follows:
1. A customer dials the company number.
2. They are welcomed by a prerecorded prompt and, based on the type of routing system, given options to wait for an available agent, specify their intent, etc.
3. If the issue requires help from a live agent, the person is placed in the queue.
4. If the company is experiencing an increased volume of callers, customers are given the option to leave a voicemail after a specified period of time.
Benefits of Call Routing
Call routing is gaining popularity across multiple industries by presenting the following benefits:
Smart functionality – You have a variety of features at your disposal. Choose those that fit your strategies.
Increased productivity – The quicker you resolve an issue, the better. If done right, you can maximize the efficiency of each agent.
Seamless user experience – The process of routing is smooth so that callers don't notice what happens behind the scenes.
Possible 24/7 availability – Routing allows you to employ agents in any part of the world. Thus, you can cover as many locations and time zones as you wish.
Prevention of revenue loss – If potential customers hang up because of a non-optimized calling system, your profits suffer. Plus, a high number of abandoned calls negatively affect your brand in general.
Call Routing for Small Businesses
You can give your company a much more professional and impressive appearance. Suppose you offer legal counseling and have a small staff. While you are engaged with one client, you can lose another client. If a potential client can leave a message and schedule an appointment without a live agent, it translates well to your brand image.
Call routing applies to many fields, such as healthcare, retail, e-commerce, finance, insurance, technology, media, telecom, etc.
When it comes to sales, you can increase your profits by delivering calls to representatives that specialize in particular products or have industry-specific insight. By forwarding calls to a knowledgeable and skilled person, you make sure you don't lose leads.
Types of Call Routing
Different organizations may need specific types of routing types or combinations of them. We've identified the following routing strategies that play an important role in how your calls are managed.
Time-Based Routing
Time-based routing operates based on when the call is made. For example, if you have agents that can accept calls in different time zones, the call is routed to whoever is available. When none of them can take the call, you can forward it to a personal mobile phone for some clients.
Skills-Based Routing
This technique directs callers to specialists with the appropriate skill set for their problem. You will need to designate agents depending on their expertise and establish the caller's intent to connect them.
Round Robin Routing
This type distributes callers across a group of servers to ensure an equal share for all reps. Client requests go down the list of servers until they reach the end. At this point, they are looped back, assuming an operator becomes available.
IVR Call Routing
Interactive Voice Response (IVR) provides callers with a series of options. They can make a choice through either the use of voice or keypresses. The information is collected by the IVR and presented to agents to determine the nature of the call.
Pros & Cons
No matter what field your business is in, responding operators need to accomplish relatively similar goals – provide information on a product or service, resolve customer issues, or change purchase specifications. Here is how call routing helps you accomplish this goal:
Reduced wait time
Minimized amount of transferring
Assigning the call to the right specialists
High call resolution rate
Some drawbacks companies may encounter with such a system include:
Incorrect choices from the caller's end
Wrong assumptions about caller intent
Underutilized agents
However, these drawbacks occur only when this technology isn't utilized correctly. If you make the necessary adjustments based on your client base, you should not experience such problems.
Conclusion
Knowing and fulfilling customer needs is at the center of many business operations. An automated call routing system helps you maximize even limited capabilities when it comes to managing incoming calls. By helping your employees put their skills to work, you quickly direct customers to where they need to be.