Choose Between Inbound and Outbound Call Center
This article aims to outline the differences between inbound and outbound call centers. Read on if you are trying to decide which type of call center is best for your business.
A traditional call center is a core element of customer support service. When customers contact a business, they reach call centers. On the other hand, when sales agents call customers to promote a product, they phone them from a call center. These situations describe two types of call centers – inbound and outbound.
What is an Inbound Call Center?
As you might guess, an inbound call center receives calls. Instead of making calls, agents are waiting to receive incoming customer calls. Most commonly, customers call to get technical support or place an order.
Inbound call centers are eager to resolve customer requests quickly and efficiently, which is why agent productivity and call resolution times are key metrics of inbound call centers.
Modern inbound call centers manage IVR systems to greet callers before they are connected to agents. IVRs can use DTMF or conversational AI to understand and intelligently route callers to their desired agents and departments. This helps inbound call centers to reduce the number of missed calls and increase customer satisfaction.
Types of Inbound Calls
Customer service. Refers to situations when customers need assistance with their accounts. This includes goods returns, account updates, and order status
Technical support. When customers have problems with a product or service, they complain to tech support
Inbound sales. Inbound call centers receive calls from potential customers who are looking for additional information about a product or service. Agents can use this opportunity to convert leads into customers
Customer Story
S7 Airlines, one of the largest airlines in Russia, serves more than 13,000,000 passengers annually. S7 Airlines turned to Voximplant to enable customers to call them directly from an app or website.
The Voximplant team embedded the click-to-call button into company services. When customers clicked the button, the system automatically sent them to the IVR system. Once the topic of the request is determined, the call is then routed to the proper agent or department. S7 priority members use a separated line that bypasses the IVR system.
To avoid losing call quality, all inbound communications are recorded in the cloud. Call recordings help agents find trouble areas to improve call efficiency. Dedicated to providing instant and efficient communication to passengers, S7 is a striking example of an efficient inbound call center.
What is an Outbound Call Center?
Instead of receiving calls, outbound call center agents make calls, usually from a list of existing or potential customers. The majority of outbound call centers are sales-oriented. Nowadays outbound call centers connect phone systems with CRM software to monitor and manage their communications.
Outbound call centers have different goals since agents don't have to receive calls and provide support. Outbound agents drive sales and conduct surveys via phone calls.

Types of Outbound Calls
Cold calls. Agents make these calls to potential customers who haven't previously interacted with the company. Cold calling has low conversion rates since it's hard to close deals with individuals who have never heard about you. However, cold calling is still a method of marketing that many companies still rely on
Warm calls. Conversely, warm calling is the result of a customer's previous interactions with a service. Warm calling is more effective as a potential customer has already purchased goods or services. Agents make warm calls to boost leads stuck in the sales funnel
Customer research. In order to improve the customer experience, businesses can conduct surveys and gather feedback. This process can be automated with AI-based agents. With Voximplant, you can build a survey scenario and create an automated phone survey with more than 20 languages in five minutes
Timely notifications. Outbound agents can keep existing customers informed or drive them to make a purchase with a sales offer. This may include reminders to renew a subscription or order confirmations for items left in an online shopping cart. Using Voximplant Kit, businesses can reduce call center workload and set up automated voice notifications
Customer Story
Home Credit Bank, an international consumer finance provider, focuses on lending to people with little or no credit history. The bank operates in 10 countries and has served over 111 million active customers.
The bank realized that they need to implement a way to better understand their customers and improve the banking experience, so they contacted Voximplant to build an automated dialing system to control the service quality.
Once a customer leaves a bank's branch, the system initiates an outbound call. If a customer gives the experience a low rating, the data is loaded in the predictive dialing system so executives can observe it.
Adding automated outbound calls led to an increase in customer loyalty and satisfaction. Since Home Credit Bank built the system, about 500 executives have connected to the dialing system.
Differences Between Inbound and Outbound Call Centers
The main difference between these two types of call centers is whether they are incoming or outgoing. If more than half of calls are outbound, the call center is considered outbound, and vice versa for inbound call centers.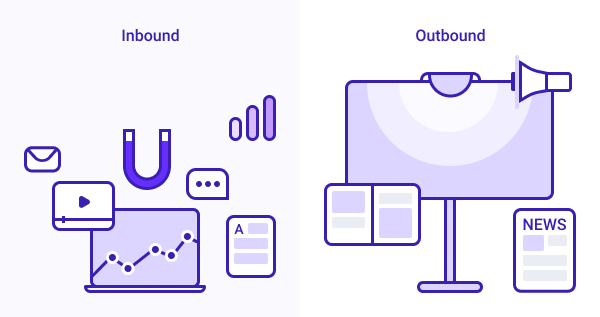 When you are considering what type of call center to implement, it's necessary to understand your business purposes and type of interactions that you will have with your customers.
Differences in Purpose
While the goal of all businesses is to make their customers happy, the way to achieve it differs. Inbound agents will cater to customer doubts, complaints, or suggestions. In this case, customers want to solve problems as soon as possible, and agents are fully responsible for positive outcomes.
On the other hand, outbound agents commonly offer services to potential buyers. Other than sales, these agents are involved with updates, notifications, or marketing activities. In this case, customers may not be interested in the offer so conversion rates are lower.
Differences in Technology
With Voximplant, you can increase the efficiency of inbound call centers with the following add-on technologies:
Call tracking to monitor which marketing channels generate phone calls
IVR system to automatically answer calls and reduce call center workload
Call routing to intelligently forward customers to the appropriate agents and departments
Call queuing to keep a caller on temporary hold until an agent becomes available
Call recordings to monitor and increase the quality of agent responses
Outbound call centers can be updated with:
Auto dialers to ensure a constant pace of calling and personal business interactions
Voice notifications to inform customers with pre-recorded messages or AI-based voice bots
Messaging API to confirm the call outcome with SMS or push notifications
Call recordings to identify agent trouble areas and increase the sale conversion rate
CRM integration to plug lead data and call metadata into your CRM system
Differences in Agent Training and Temperament
Since inbound and outbound agents handle different tasks, their approaches have to differ as well. At an inbound center, customers feel in charge. Inbound agents have to be polite and serve the clientele carefully. Outbound agents, on the other hand, need to approach leads and potential customers more aggressively. Phone sales require an agent to be proactive and able to persuade.

Measuring Metrics and Performance
While both inbound and outbound call centers affect businesses, their use depends on different metrics. Productive and quality inbound agents are evaluated according to customer satisfaction and resolution speed. Successful outbound agents are evaluated on high conversion rates.
All In One: Combination Call Center
In many cases, businesses have to maintain both inbound and outbound call centers. For instance, Rocketbank, a Russian virtual bank, allows thousands of customers to make free and instant transfers from other banks, open accounts and deposits, and pay for various services and taxes.
From the beginning, Rocketbank communicated with its customers through an in-app chat. With a growing customer base, Rocketbank realized a need to scale their communication channels so the bank then turned to Voximplant to build a cloud call center.
As incoming calls arrive, the Voximplant cloud issues a command for the CRM system to pull up the customer's file and forwards the call to an agent. If the agent makes an outgoing call, the CRM web page sends out a signal, and the Voximplant cloud calls the customer. With this combination call center in place, Rocketbank is now able to deal with 1,500 calls per day.
Contact Centers vs. Call Centers
Historically, call centers communicated with customers only with phone calls. Modern call centers can switch to a multichannel strategy that allows customers to use a channel they prefer, and it is this choice that differentiates a contact center from a call center.
Inbound contact centers deliver customer support via embedded chats based on text or video communications. It's also useful to integrate support for Facebook Messenger or SMS. Outbound contact centers can send push notifications and emails to promote products.
With Voximplant, you can manage all communication channels using a single interface. Our platform allows you to choose features and channels you need and build a cloud contact center in less than an hour! You can start from an inbound contact center and then evolve to have outbound capabilities.
APIs enable you to build the exact customer experience you need with the ability to customize communications as often as you want.
The Programmable Contact Center Platform
A programmable contact center gives you business control over all of your communications. Instantly deploy the platform with a few lines of code and customize communication channels, agent interfaces, routing strategies, and more.
Get started today with a free developer account. Build a next-gen communication experience.