The relevance of remote business has grown rapidly due to changing conditions in world markets. Several companies are facing challenges because they are not set up for their employees to transition to remote work but situations like these call for immediate measures.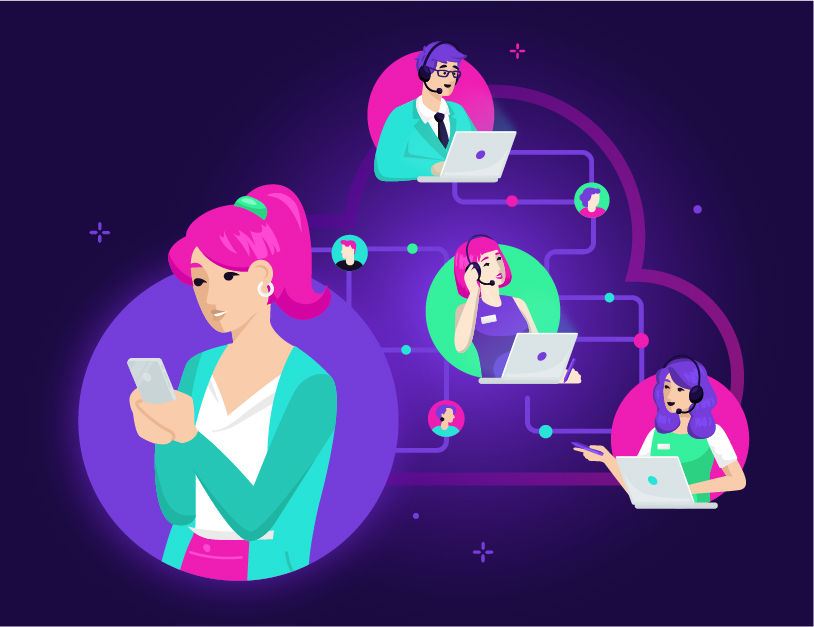 Voximplant offers quick and effective solutions for any business, providing real-time communication tools with full control over voice, video, and text. Voximplant enables you to manage relationships both within your business and with your customers.
Popular Platform-Based Solutions
Call Routing
This feature allows you to redirect calls from the work phone to your personal mobile, which will prevent you from missing an important call and be able to continue to keep in touch with partners and customers without having to give them your personal number. More info
Audio Conferencing
You can combine calls into a conference with Voximplant. HD audio conferencing is available because of our SDKs. This lets you organize communication with a large number of participants in real time. More info
Video Conferencing, Video Chats, and Video Recording
Our platform supports video solutions and offers a flexible API for managing them on the client side or in the cloud. You can add participants to a video conference and chat with them using the SDK, regular phones or SIP, as well as record audio and video. More info
Group Chat
You can implement both private and group chats with Voximplant messaging. Group chats can also be integrated through the backend or with other messaging platforms thanks to the HTTP API. At the same time, Voximplant guarantees complete confidentiality during data storage. More info
Unified Communications
When you work out of the office, it's easy to lose customer contacts or forget about chat messages. To continue providing high-quality support for your customers, you should combine communication channels in an all-in-one solution, in order to receive incoming requests and initiate outgoing communication in multiple ways: voice and video calls, conferences, screenshots, and instant messaging. More info
Integrating Voximplant with your Business
The integration of Voximplant with your business is fast and seamless owing to HTTP API and out-of-the-box solutions. We provide the entire set of tools that developers need, and we also offer assistance in designing these solutions. The integration of boxed solutions with business processes takes no more than a couple of hours.
Our company cares about customer satisfaction so we are always in touch with clients and ready to help with any difficulties. The Voximplant platform is an excellent solution to switch to remote work without compromising your company's productivity and efficiency.