The good news doesn't end and neither do Voximplant Kit updates. We've recently added several new features that you'll want to check out: two-factor authentication and custom agent statuses. Let's analyze each of them in order.
Two-factor authentication
Voximplant Kit has become more secure to be used. Now, you can connect Two-factor authentication for authorization in your account! Two-factor authentication is an extra layer of security for your account, which ensures that only you have access to your account, even if someone knows your password.
Two-factor authentication in Voximplant Kit works according to familiar principle - in order to enter somewhere, you need to confirm twice that the account belongs to you, and with the help of two "keys", one of which you own - the password, and the other you receive. With this option turned on, authorization process includes two steps:
1. Enter your account name, email and password
2. Enter a 6-digit password from a special application
To enable two-factor authentication, go to the general section "Security" and activate two-factor authentication.

After that, the system will ask you to set up the second step of authentication on the next login attempt.
Note that when you activate two-factor authentication, the system will request to set up two-factor authentication for each user of your account (including agents, managers etc.)
To set up the second step, you need to go to the Security section in Profile Settings. This section also contains detailed information about the requirements and options for setting up the second step of two-factor authentication, as well as describes the options for obtaining a "key" (including 4 authentication applications that generate 6-digit security passwords).
After you complete the required setup, your login page will look like this:
1st step of authentication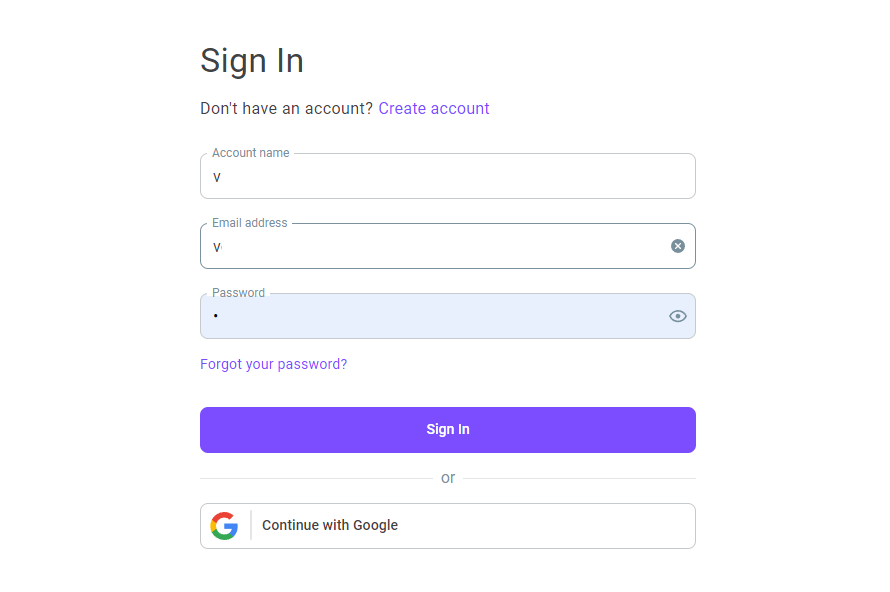 2nd step of authentication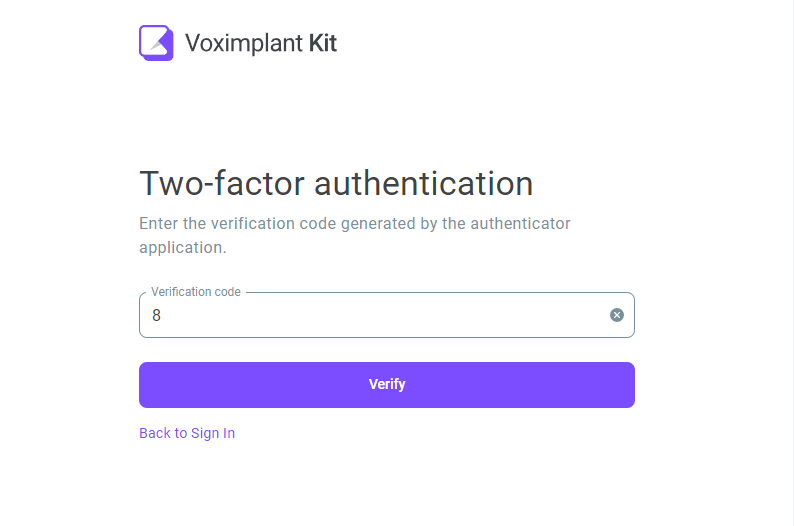 You can also find a detailed description of this process in our documentation.
Custom agent statuses
Agents could be unavailable for many different reasons. To control the work of agents and make these reasons more visible, you can use Custom Agent Statuses in Voximplant Kit.
Custom agent statuses are needed to specify the possible DND-mode reasons for Contact Center users. With custom statuses you are able to create up to 10 different statuses that you can select while working in the Contact Center.
You can create and edit custom statuses in the "Statuses" section of General Contact Center settings.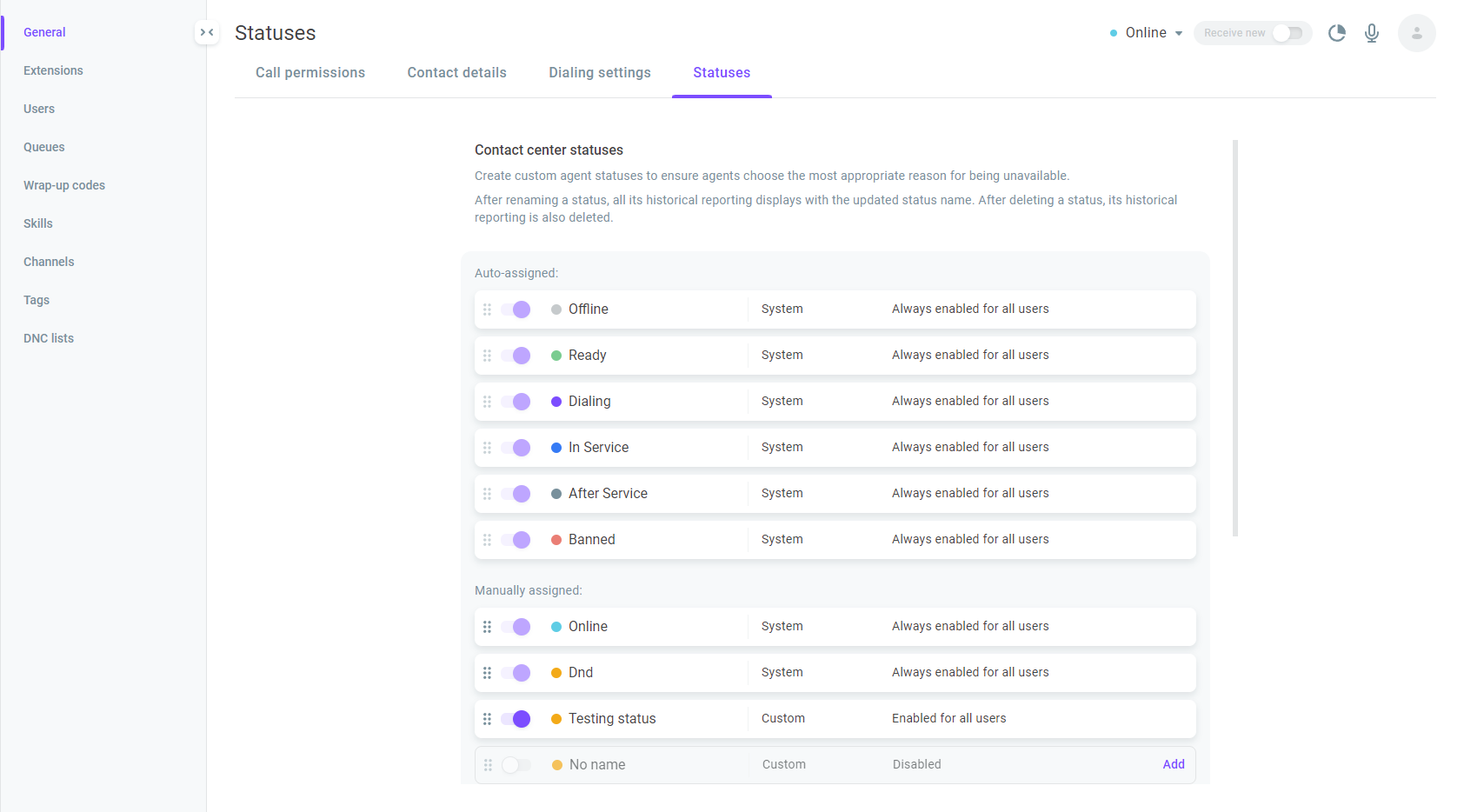 This section consists of default system statuses. They are set automatically or by agents in the Contact Center. You can manually create a status and name based on your needs.
A custom status could be created by clicking the button "Add", you can also add the name and description of a new status. After activation (the status is activated by default, if not deactivated) the status appears in the list. Custom statuses generally have the meaning of DND (Do not disturb) status and explain in more detail the absence reason.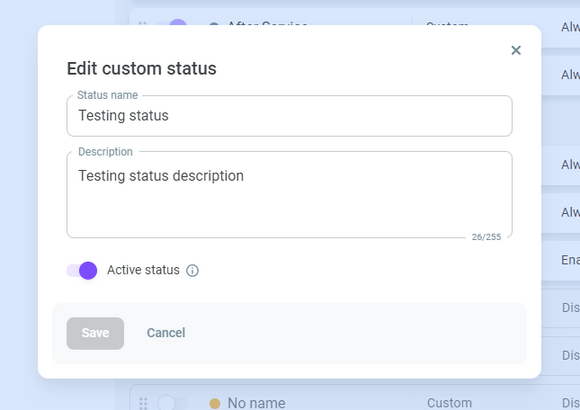 Note that if you rename a custom status, the history will be updated with the new name. If you delete a custom status, the history will be also deleted.
You may also find a detailed description of managing the statuses in our documentation.
We are continuously working on our product to facilitate security for you and your clients and free up your time by eliminating routine tasks. Your ability to set up the work process in a comfortable manner is our concern. If you have any questions or suggestions about how to improve any of the new functions, feel free to write to us at hello@kit.voximplant.com. We look forward to improving the product for you!