Any contact center manager considering a new cloud communications solution needs to do their "due diligence" before choosing a provider, including those in small to medium enterprises. The stakes are high for SMEs because your needs are unique and there are significant differences in the available providers. Your decision not only affects your organization's budget, but also its business processes, customer experiences, and agent work environment.

Two well-recognized contact center as a service (CCaaS) providers that merit consideration by any SME are Talkdesk and Voximplant. Both target the needs of the SME, but their solutions offer different levels of flexibility and features which can affect your operations. SMEs with multinational operations should also consider differing geographic coverage and multilingual capabilities, too.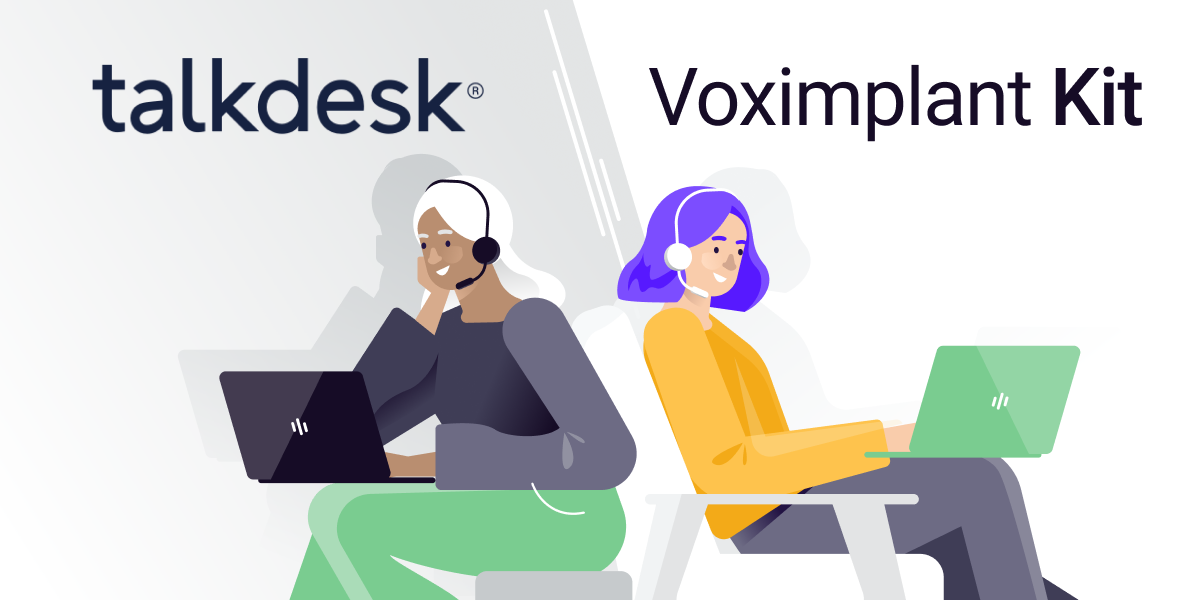 In this article, we'll compare Voximplant Kit with Talkdesk CX Cloud from the perspective of an SME contact center manager. We'll provide background on each company and describe the features, prices and service delivery capabilities in their respective products. Our goal is to give you the information any manager in an SME needs to make an informed decision.
Contact Center Solution Overview
Voximplant and Talkdesk have many similarities in their background. They both were founded in Europe and continue to maintain their R&D operations there. They are both privately held companies that have been in business for about a decade. Even though they share a European heritage, both companies are focused on the US contact center market.
Talkdesk focuses on CRM integrations

Talkdesk got its start in 2011 serving small and medium enterprises when most CCaaS were focused on larger organizations. Since then, it has broadened its market focus and claims over 1,800 customers, worldwide, including many large enterprises.

When the company was founded, it made an early decision to build its Talkdesk CX Cloud on the Twilio communications platform as a service (CPaaS). This means all the underlying voice telephony and messaging functions are delivered by Twilio. The integration is seamless to customers. However, the partnership affects the Talkdesk cost structure because prices charged to customers must cover the cost of using Twilio services.

By leveraging the Twilio platform, Talkdesk was able to focus its resources on building user interfaces that are easy to use and integrating its service with popular CRM systems. These innovations enabled it to build early success with SMEs.

Today, TalkDesk serves its diversified customer base from nine data centers, providing coverage for customers in the US, Europe, South America and parts of Asia. Its coverage map leaves gaps in Eastern Europe and Western Asia. You should investigate its voice quality and service levels, if you have operations in India, Ukraine or similar locations.
Voximplant builds on voice communications expertise

Voximplant was founded in 2010 as a CPaaS provider. Its business grew rapidly as application developers were attracted to the scalability and quality of its communications services. In 2020, the company added the Voximplant Kit CCaaS to its offerings. The company currently touts over 30,000 active customers across its product lines.

Voximplant Kit targets SMEs with features that make it easy to deploy a complete contact center in minutes, while providing flexibility to customize the service to your requirements. Kit builds on the company's extensive voice communications expertise with innovative speech recognition and natural language processing features (see below).

Because Voximplant operates its own CPaaS platform, it has an inherent cost advantage over Talkdesk. Prices for the Kit service don't have to recoup the cost of passing all communications through a third party CPaaS service.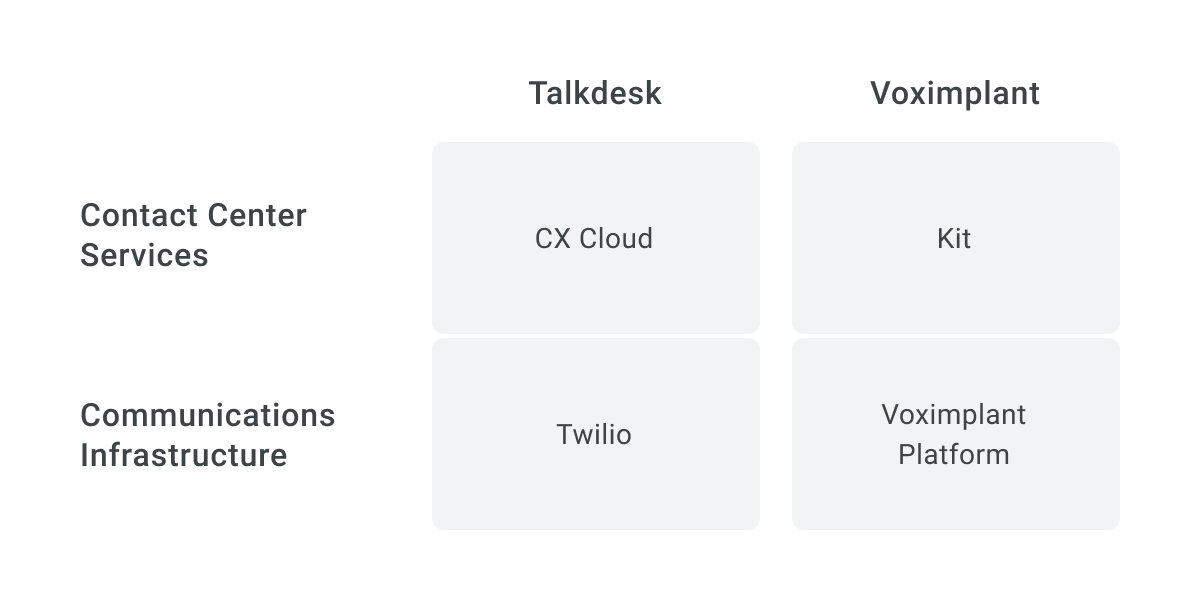 Product architecture comparison
In addition, Kit leverages the established Voximplant data center infrastructure which includes 14 locations distributed across five continents. When compared to Talkdesk, Voximplant offers better coverage for European locations from its many data centers there.
Virtual Contact Center Feature Comparison

As you'd expect from any credible vendor in the CCaaS market, both Voximplant and Talkdesk have covered the baseline features needed by any SME. Here is a partial list of features offered by both providers:
ACD
Voice activated IVR
Modern GUI for agent, supervisor and admin
No-code configurability
Omnichannel support (messaging channels supported by each vendor listed below)
AI-driven automation
CRM integrations (listed below)
Outbound dialer
Call recording
With the basic features covered by both vendors, your evaluation should consider the unique features of each offering and how they could aid your business.
Voximplant Kit Unique Features

Voximplant Kit is fast to build and deploy. It features a unique visual builder that enables you to activate a fully functional contact center in as little as ten minutes without writing any code. Designed for non-technical personnel, Kit enables you to build custom IVRs, messaging interfaces and agent routing strategies through a simple drag-and-drop canvas.

Once your contact center design is complete, it can be activated in seconds. The entire process is self-service and available 24/7. You can make changes to your contact center at any time.

With Voximplant Kit, ease of use doesn't come at the expense of flexibility. A broad variety of function blocks with optional features provide fine-grained controls. This enables you to deliver highly personalized customer experiences and tailor Kit to your business processes. In addition, you're not locked-in to the functions and call flows offered in the visual builder, because Kit can be customized with optional JavaScript code.
If you think AI-driven contact center functionality is out of reach for an SME, you'll be pleasantly surprised by the voice automation offered by Voximplant Kit. The company has been a leader in this area through its work with Google and other major AI providers. It has years of experience integrating virtual agents with its telephony environment. Through its partners, you can build voice activated IVR services in 40 languages and dialects that will enable you to deliver automated services to a wide user base.

Kit offers a choice of five speech synthesis integrations, including Google, Amazon, IBM, Microsoft and Yandex. This gives you a range of synthesized voices from which to choose to represent your brand, and flexibility to access the combination of features, languages and prices needed for your business.

Rounding out the Kit feature set are out-of-the-box integrations with popular messaging channels, including WhatsApp, Viber and Telegram. A Facebook Messenger integration is around the corner, too. From a CRM standpoint, Voximplant offers a direct integration with Zoho.
Talkdesk CX Cloud Unique Features

Talkdesk's earliest innovations include a high level of integration with CRM systems. The company began by integrating with Salesforce and has expanded to include direct integrations with over 60 cloud-based CRM vendors. These integrations enable screen pop, click-to-call, and other productivity-enhancing capabilities.

The company continues to innovate in this area with the introduction of its app store, AppConnect, which enables customers to add third-party productivity applications to their CX Cloud service. The store includes 50 applications across a range of categories, including workforce management, analytics, screen sharing, secure payments, and even headsets.

Talkdesk offers a suite of optional workforce engagement management (WEM) tools. These are tools most often used by large enterprise contact centers to manage agent performance. They include online training, workflow management, and coaching capabilities.

Similar to Voximplant, Talkdesk offers AI-based automation. Talkdesk recently launched virtual agent and agent assist capabilities. Virtual agent uses natural language processing to provide a fully automated, self-service experience over the voice channel. Agent assist uses AI to recognize caller queries and provide agents with responses in real time on their screens. Both of these optional features are new and only available in a limited number of languages. If your contact center handles non-english speaking callers, you should check to be sure Talkdesk offers support.

Rounding out the feature list are integrations with popular messaging channels, including WhatsApp, Facebook Messenger, Twitter, WeChat, RCS Messaging and Apple Business Chat.
Service Reliability and Uptime

Like most organizations, SMEs compete on the quality of customer experience and contact center outages can blemish CX. You may think all cloud providers offer similar reliability, but there are substantial differences. Outages happen more frequently with certain cloud vendors than with others.

Variations in reliability and uptime can frequently be attributed to the diversity and redundancy built into the service provider's architecture. Let's evaluate the Voximplant and Talkdesk architectures.

Talkdesk relies on a single cloud infrastructure platform for all its services which makes it more vulnerable to outages than Voximplant, which operates a highly diversified multi-cloud platform. All Talkdesk communications services are delivered by the Twilio CPaaS. When Twilio experiences an outage or service impairment, it directly and immediately impacts the Talkdesk service.

This CPaaS diversity analysis reveals that Twilio's service runs on a single provider's cloud infrastructure, Amazon Web Services. In contrast, Voximplant uses fourteen different cloud infrastructure providers, giving it much more diversity and immunity from outages and impairments. When any Voximplant cloud provider experiences a problem, it can immediately switch to an alternate provider.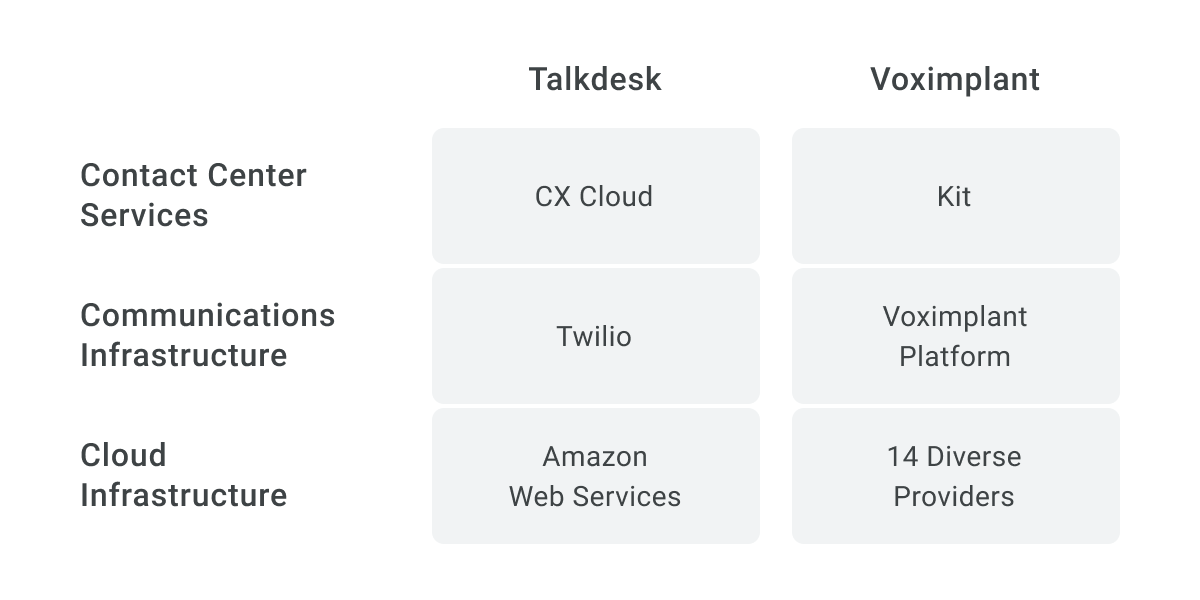 Cloud diversity comparison
Many Talkdesk customers learned how these vulnerabilities can affect their business when AWS experienced an outage at its US East data center in November, 2020. This outage disrupted service to Twilio customers, which impacted Talkdesk customers, in turn. During the outage, calls were prevented from de-queuing and being routed to agents.
Talkdesk Pricing and Voximplant Pricing

Voximplant is very easy for SMEs to do business with. The company is super responsive to busy contact center managers. It recognizes you need to focus on service delivery and don't want to get bogged down with vendor negotiations. In contrast, some Talkdesk customers complain the company is slow to respond to sales inquiries.
Voximplant pricing is 30% lower than Talkdesk

Both companies offer similar pricing models. Their fees are based on these factors:
Monthly recurring charge based on number of agents enrolled in the service
Telecommunications usage (measured in minutes)
Telephone number rental
Optional features, which include omnichannel, recording, speech recognition, etc.
Both companies offer multiple pricing tiers based on the number of agents enrolled in the service. The more agents enrolled, the lower the monthly recurring fee. Also, the service fees enable you to deploy an inbound or outbound contact center for voice channels, only. Additional voice features (e.g. speech recognition, recording, etc.) and non-voice features (messaging channels, PCI compliant payment, workforce management, etc.) are considered optional and are available for additional fees.

Voximplant offers 30% lower monthly recurring fees and we think other pricing elements are substantially less expensive, too. Recurring fees for Talkdesk start at $65 per seat, per month and Voximplant fees start at $45.

While Talkdesk doesn't publish fees for optional features, telephone numbers or telecommunications usage, we estimate a Voximplant will come in much lower than Talkdesk. This is because these services are priced to compete in the CPaaS market, which is more aggressive than CCaaS. Prices for Voximplant are published here.
Getting Started

In line with the company's self-service philosophy, you can start a Voximplant Kit free trial at any time, online. The 14-day trial gives you access to the full Kit feature set and includes telecom usage credit.

Talkdesk customers report that creating a Talkdesk account is "easy but not quick." First, you have to complete an online form and wait for a Talkdesk solutions consultant to contact you. Once you've been qualified, Talkdesk provides a 14-day free trial and a $5 credit to try out and test Talkdesk. During this trial period, you'll be able to access only the baseline telephony features.
World Class Support for CCaaS

When something goes wrong, you want to be able to quickly fix it. You want the peace of mind that comes with knowing there are multiple support resources available and you want to be able to engage the resource you need, when you need it. This includes access to well organized and documented knowledge bases, plus live technical agents.

Both companies offer multiple levels of support with similar resources, including knowledge base, plus phone and chat with a live agent. Their plans are differentiated based on response time SLAs and service uptime.
Choose the Best CCaaS Solution for Your Business

SME contact centers are different from large enterprise contact centers. They don't require the advanced features used by enterprises and they don't want to pay enterprise prices. Yet, SME managers often want the flexibility to tailor the experience to their customers and business processes. These factors make Voximplant Kit an excellent fit.

On the other hand, if your organization is rapidly growing toward a large enterprise and needs to integrate a range of CRM, WFM, analytics and training systems, then Talkdesk may be a good solution.

As always, we advocate a thoughtful analysis of both options before selecting a vendor. They are both excellent solutions, depending upon your organization's particular needs and resources.