The COVID-19 pandemic created major industry shifts this year, ecommerce included. Shelter-in-place orders led to many businesses shutting their doors. And the closed doors of brick-and-mortar businesses forced consumers to add items to online shopping carts. As we enter a holiday season still in the midst of the pandemic, consumer reliance on ecommerce will only increase. Retail experts predict that ecommerce retailers could see a boost in sales of 25-35% during this holiday season.
Retailers of all sizes need to adjust and get ready for an unprecedented holiday season. Surprise! The 2020 holiday shopping season started in mid-October, so we're already in it!
The predicted increase in sales and the longer holiday season will inevitably lead to increased communications between customers and retailers at every stage of the buyer's journey. The influx of customer inquiries necessitates efficiency as businesses figure out how to maintain a great standard of customer service. This creates new opportunities for ecommerce communications.
For ecommerce businesses looking to stay on top of this year's holiday rush, Voximplant offers a flexible, low-maintenance solution to handle customer communications. Select from a wide range of options to customize your communications applications to meet your specific needs. Voximplant is the communications solution that lets you engage your customers quickly your way.
What makes this holiday shopping season different?
COVID-19 forced retailers and consumers to adopt a new digital-first approach to shopping. As people stayed home, the need for digital services rose. Both brick-and-mortar and ecommerce retailers had to implement more tech toolsinto their workflows to virtually reach, connect, and engage with their customers.
The pandemic will make the holidays feel a lot different this year. The new routines, safety measures, and behaviors we've all had to adopt in 2020 are here to stay. And as we anticipate a different type of holiday shopping season, retailers should stay mindful of the ways consumer behavior is shifting.
Less in-person celebrations lead to increased spending
'Tis the season for smaller holiday gatherings and socially distanced staycations. But staying home to observe COVID-19 safety measures won't stop people from opening their wallets this holiday season.
"If I'm not going out, those dollars have to go somewhere and home is where a lot of it will go."
The increased time spent at home will likely encourage more online shopping for ourselves and others. At the start of the pandemic lockdowns, ecommerce retailers in the home-improvement spaces saw order counts grow by 75-134%. Deloitte's vice chairman and U.S. retail and distribution lead Rod Sides told Forbes, "If I'm not going out, those dollars have to go somewhere and home is where a lot of it will go."
As the holidays near, we can also expect to see growth in retail gifting categories as well. Sides says that the steady increase of ecommerce sales by 13-17% since 2016 is expected to nearly double this holiday season. With 64% of consumers planning to increase online spending through the rest of the year, we can anticipate a boost in sales.
The expected increase in online orders may cause a surge in inbound customer service requests. The rush of customer communications could become overwhelming for contact-center agents who will need an efficient way to handle the high volume of inquiries.
Increased communications across channels
Global pandemic and the immediate need for all of the things you didn't know you needed adds up to a lot of online shopping. With a lot of online spending comes a rise in customers' engagement with retailers. Where are customers communicating with businesses? Everywhere.
When local restaurants are open only for takeout, folks open up their preferred food-delivery mobile app and place an order. They check their email for the order confirmation. Then, they patiently track their meal's journey from the restaurant's kitchen to their front door via SMS and in-app notifications. If there's an issue with the order, they'll reach customer service by phone, through the app, or via email, or they'll air their grievances on social media.
With the example above, in just one order, a customer engages with a business using at least five different communications platforms. Cross-channel communications is a standard part of online shopping. For companies that prioritize customer satisfaction, it's time to get on top of their omnichannel game.
Before the pandemic, close to 90% of consumers expected seamless interactions between channels when engaging with a company. Businesses should take this customer expectation seriously — almost 75% of consumers find it frustrating when they have to reiterate the same issue to brands as they switch between different channels.
Staying agile with curbside pickup and other delivery options
In-store social distancing and restricted in-person shopping hours have changed how everyone shops. To adapt, many customers order products online and select either home delivery or no-contact curbside pickup at checkout. This year, Target experienced a 700% boost in the use of its curbside pickup service.
It's clear that COVID-19 caused the rise of retailers' curbside pickup offerings. Don't expect this trend to fade away. With such widespread adoption at most retailers, no-contact pickup services are a staple in our shopping routines and are here to stay.
Brick-and-mortar stores have to stay agile and provide these more convenient options to consumers this holiday season and for the foreseeable future. Additionally, ecommerce retailers and fulfillment centers should prepare for an increase in at-home deliveries.
Every retailer aims to get customers their orders on time and as expected. An increase in online orders this year could unfortunately result in more hiccups in order processing and possible shipping and delivery delays. By taking a proactive approach and communicating potential issues with purchases, retailers can take steps to ensure that customers have positive experiences engaging with the company.
Ecommerce retailers must prioritize post purchase communications as a primary function of good customer service. Companies can boost loyalty and customer satisfaction by promptly responding to customer inquiries and reaching out to customers to offer promo codes on future purchases.
5 fast and cost-effective ways to get your ecommerce ready for the holidays and beyond
This year's longer holiday shopping season and the expected surge in online spending calls for more efficient ways for ecommerce retailers to communicate with customers.
Automate a high volume of inbound customer calls and requests
When support teams receive a flood of customer inquiries, it's frustrating for customers and agents alike. Agents scramble to answer every call. Customers can experience longer-than-normal wait times or, worse, some calls go unanswered.
You can enable smart Interactive Voice Responses (IVRs) to handle the higher volume of calls with automation.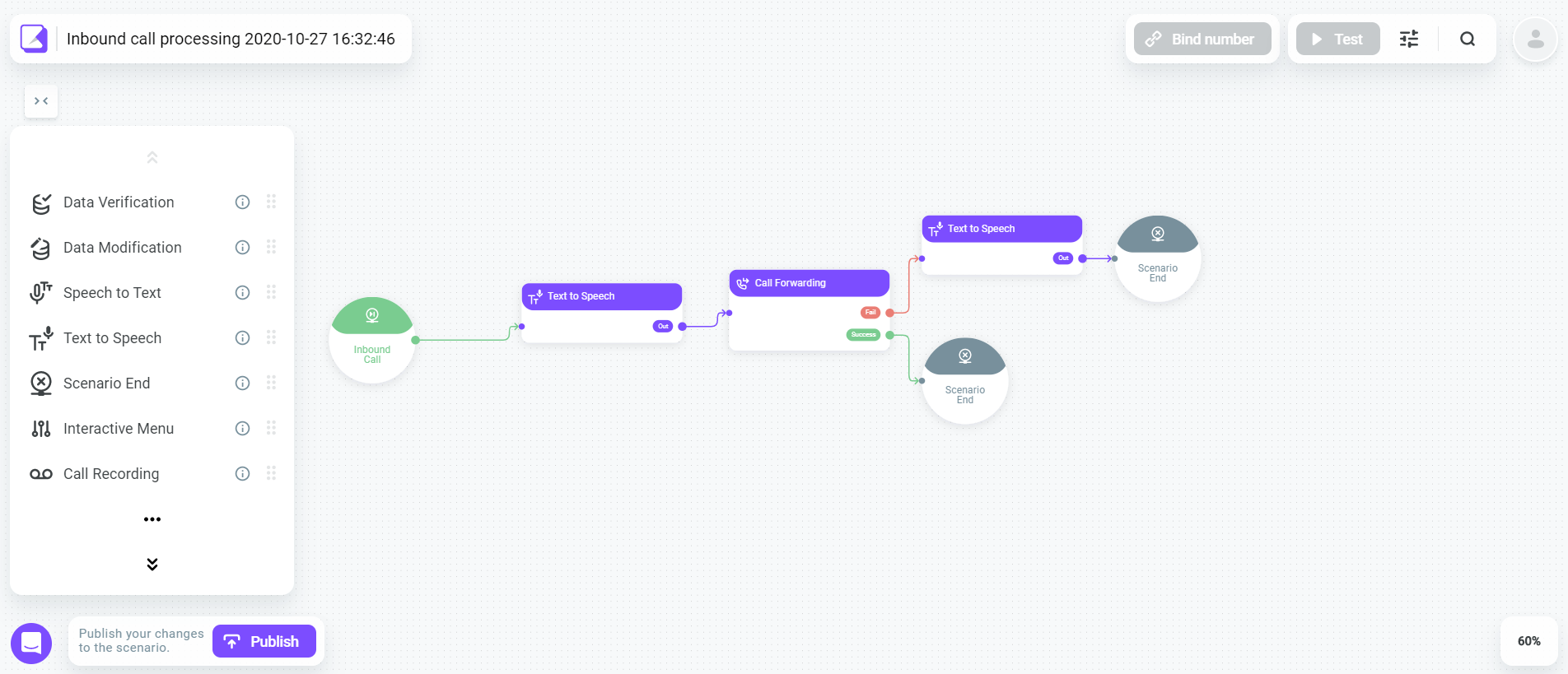 Smart IVRs guide customers through a menu that helps them resolve their issues without speaking to an agent directly. This filters out less-complex calls and elevates complicated inquiries to a live agent for more personalized service.
Voximplant, for example, has smart IVRs with speech recognition and natural language processing technology that understands caller intent and lets callers naturally engage with the IVR. This technology gives customers a self-service option for common inquiries and takes routine calls out of the hands of your agents.
Be ready for your "everywhere" customer with omnichannel support
The surge in online orders this season will come with an unprecedented influx of customer requests from different channels.
Whether customers reach out via SMS, social media, voice, or mobile apps, keeping your information centralized, organized, and easily accessible increases productivity by helping your agents operate more efficiently.
With a solution like Voximplant, your agents have a holistic view of customer history and data on the contact center dashboard. This saves agents from searching for different parts of the same conversation across channels and enables them to resolve issues faster.
Offer personalized service to every customer with real-time solutions
Your agents can't chat with your customers face-to-face. But a programmable, real-time customized contact center solution helps agents tailor experiences for individual customers.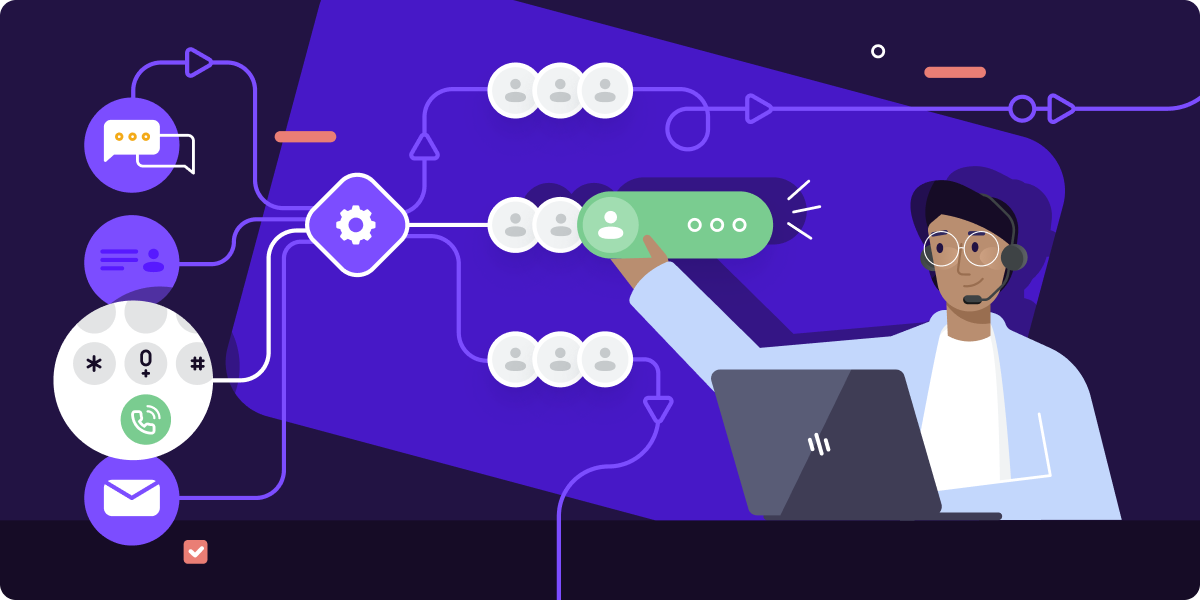 Smart routing applications let you route voice or SMS/messaging inquiries to specific agents based on language for added personalization. Have a call from a Spanish-speaking customer who needs assistance? Automatically send that inquiry to one of your Spanish-speaking live agents.
This smart routing leads to faster resolution of cases and great customer service experiences. And you can customize your own smart routing solutions with Voximplant's drag-and-drop templates.
Get feedback directly from your customers
Excellent customer service extends past an order's "shipped on" date. Give your agents the tools to take proactive steps to keep the conversation going with your customers. Reach out to customers upon delivery of their items, resolve issues ASAP, and offer up promo codes to encourage customers to shop with you again.
For situations when you want to receive direct customer feedback, you can launch automated outbound phone surveys. Create fully customizable automated phone surveys with a flexible communications solution so you can gather and analyze customer feedback in real-time.
With the drag-and-drop building blocks in Voximplant Kit, for example, you can customize automated voice surveys in more than 60 languages for speech recognition and high-quality voice synthesis.
Send real-time updates with SMS notifications
If you're taking cues from other ecommerce retailers and offering holiday deals earlier this year, send your customers a little digital nudge. Get your customers thinking about shopping with you now by sending them reminders that'll grab their attention.
Programmable messaging options let you send sale announcements, promo codes, and new product alerts directly to customers' phones. Through SMS messaging, you can also keep customers updated on the status of their curbside pickup orders. Send them SMS notifications as their orders are prepared, give them estimated pickup times, and alert them when their orders are ready.
Connect with your customers through SMS and have confidence that they'll notice. Because Voximplant supports omnichannel messaging, phone number masking, in addition to other SMS messaging features, it's an ideal solution for messaging campaigns.
Gear up for the holiday rush with ease
Efficient customer-retailer communication is essential during this holiday season. To provide a quality customer experience, you'll need to help your contact-center agents try to juggle the influx of customer inquiries.
Voximplant supports your contact-center needs at any level. Deploy and tailor your fundamental communications quickly and flexibly with our no-code omnichannel cloud contact center, Voximplant Kit. Want to take your customer communications to the next level? Our all-in-one Voximplant Platform supports your most complex communications situations.