Dialogflow One-click Integration and new VoxEngine CCAI Module
Voximplant was the first CPaaS to have a publicly available Dialogflow Connector that lets you connect a machine Learning-based virtual agent directly into an inbound or outbound phone call without losing full telephony control. There is now a new integration mechanism right inside the Google Cloud Dialogflow console via One-click telephony:


This interface provides a guided step-by-step install from within Dialogflow that includes selection of a phone number from any one of Voximplant's 58 supported countries. The install finishes with automatic creation of a scenario that connects incoming calls to that phone number to your Dialogflow agent.
New CCAI module
This new one-click integration connects to a brand new CCAI (which stands for Contact Center AI) VoxEngine module. This module aligns with Google's Contact Center AI Dialogflow APIs and is intended for Google Contact Center AI customers. See the documentation on the new CCAI module here and talk to your Google representative for access to their Contact Center AI program. The One-click telephony integration only works with this new CCAI module and will not work with the AI module.
Google Cloud Service Key
The existing service key mechanism for integration with Dialogflow using the AI module continues to work. You should use that mechanism unless you have a specific need to use the new CCAI module.
More Resources
Dialogflow is a great way to build a conversational IVR using either Voximplant's VoxEngine programmable telephony platform or by using the new no code Voximplant Kit interface.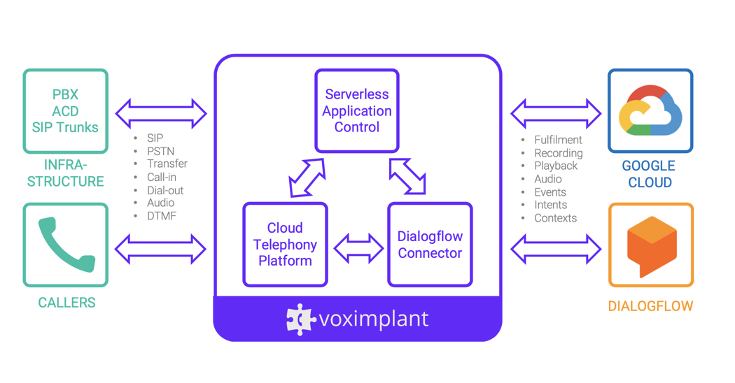 We have a number of resources to help you get started and make the most use of Dialogflow:
● Video: Create a Voicebot in 2 minutes using Dialogflow and Voximplant
● How to transfer a call from a Dialogflow bot to an operator
● How to use Dialogflow Connector with inbound calls
● How to use Dialogflow Connector with outbound calls
● Using Dialogflow for NLP in Voximplant Kit
● Voximplant Marketplace Dialogflow Connector installation
Or visit our Dialogflow Connector solutions page.