Learn how to create and manage Voximplant subusers and see which control panel sections they have access to.
Subusers are the entities that are needed to access different panel sections. Do not confuse them with Service accounts which are needed to interact with our Management API.
To create a subuser, do the following:
Log in to your Voximplant account.
Go to the Subusers section of the Voximplant control panel and click Add or Add subuser.
Fill in the gaps and choose a role for your subuser (see the table below to learn about subuser roles' access to different panel sections).
Click Create.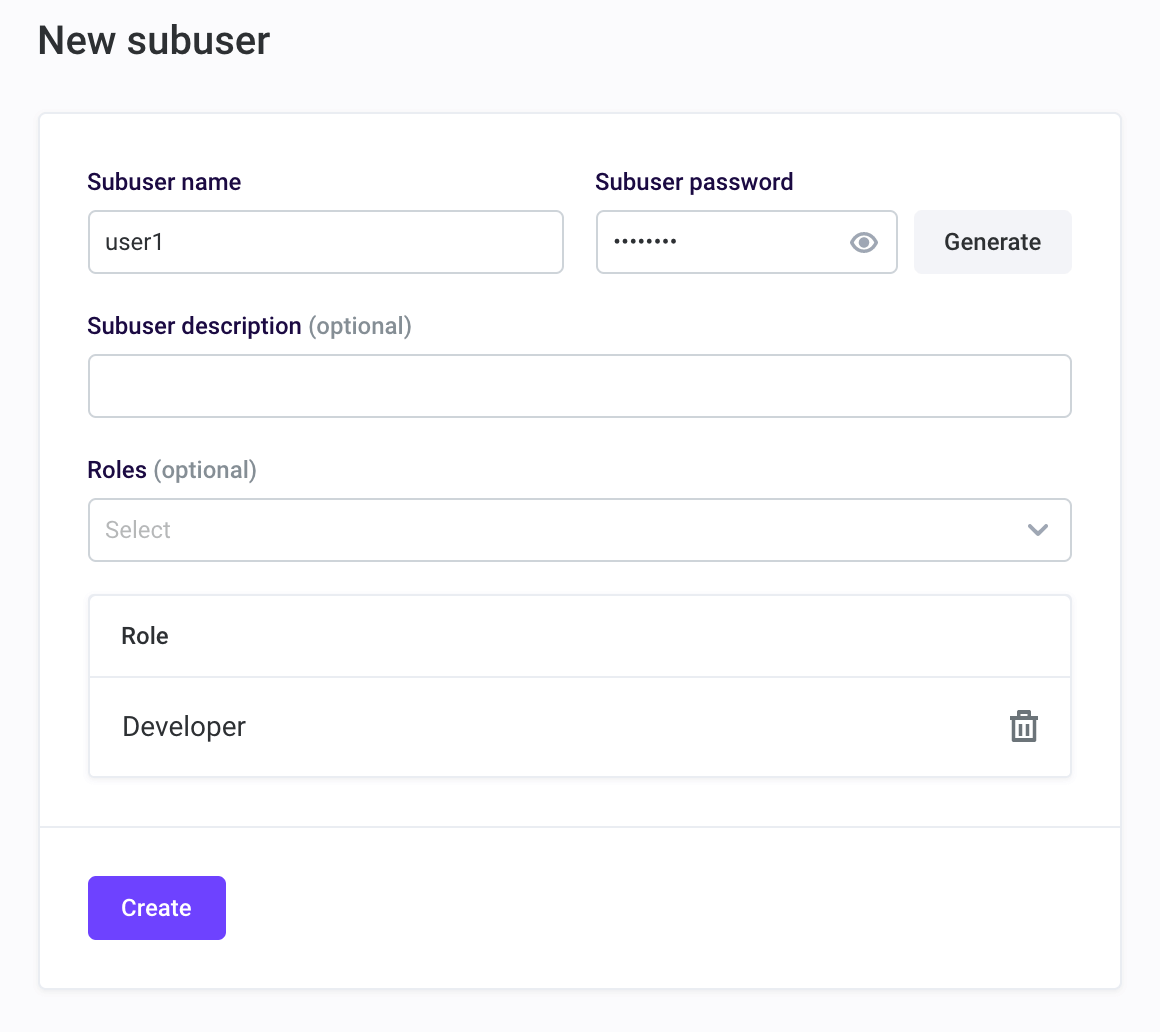 When you create your first subuser, you will see a special link – your subuser login page. Your subusers can log in using this link only.
To edit or delete a subuser, use the three dots menu next to it.

Subusers access to panel sections
If access to a panel section is granted, it means full read, write, and delete access. And it is the only existing access type at the moment.
Panel section

Subuser role

MainAccount
PhoneNumberManager
Owner
Admin
Developer
Supervisor
Support
Accountant
CallListManager
UserManager
Payer
PayerNoVerify

MainAccount
Owner
Admin
Developer
Supervisor
Support
Accountant
CallListManager
UserManager

Certain application

MainAccount
Owner
Admin
Developer
Supervisor
Support
Accountant

Call history in a certain application

MainAccount
Owner
Admin
Developer
Supervisor
Support

Call history downloads in a certain application

MainAccount
Owner
Admin
Developer
Supervisor

Scenarios in a certain application

MainAccount
Owner
Admin
Developer

Users in a certain application

MainAccount
Owner
Admin
UserManager

Phone numbers in a certain application

MainAccount
Owner
Admin
Developer
Supervisor
Support

Rules in a certain application

MainAccount
Owner
Admin
Developer

Queues in a certain application

MainAccount
Owner
Admin
Developer
Supervisor

Call lists in a certain application

MainAccount
Owner
Admin
Developer
Supervisor
Support
CallListManager

Creating a new call list in a certain application

MainAccount
Owner
Admin
Developer
CallListManager

Append new lines to a call list in a certain application

MainAccount
Owner
Admin
Developer
CallListManager

SIP registrations in a certain application

MainAccount
Owner
Admin
Developer
Supervisor
Support

Push certificates in a certain application

MainAccount
Owner
Admin
Developer

Dialogflow agents in a certain application

MainAccount
Owner
Admin
Developer

Key-Value Storage in a certain application

MainAccount
Owner
Admin
Developer

MainAccount
Owner
Admin
Developer
Supervisor
Support

MainAccount
Owner
Admin
Developer
Supervisor

MainAccount
Owner
Admin
Developer

MainAccount
PhoneNumberManager
Owner
Admin
Accountant

MainAccount
PhoneNumberManager
Owner
Admin
Accountant

MainAccount
PhoneNumberManager
Owner
Admin
Accountant

PhoneNumberManager

MainAccount
Owner
Admin

MainAccount
Owner
Admin

MainAccount
Owner
Admin

MainAccount
Owner
Admin
Developer

MainAccount
Owner
Admin
Supervisor
Accountant

MainAccount
Owner
Admin
Accountant
Payer
PayerNoVerify

MainAccount
Owner
Admin
Developer

MainAccount

MainAccount

MainAccount
Owner
Admin

MainAccount
Owner

MainAccount

MainAccount

Editing a subuser

MainAccount

MainAccount
Owner
Admin
Developer
Accountant
Supervisor
Support
CallListManager
UserManager

MainAccount
Owner
Admin
Accountant

MainAccount
Owner
Admin
Developer
Accountant
Supervisor
Support
CallListManager
UserManager
Payer
PayerNoVerify

MainAccount
Admin
Support

MainAccount

MainAccount

MainAccount
PhoneNumberManager
Owner
Admin
Developer
Accountant
Supervisor
Support
CallListManager
UserManager
Payer
PayerNoVerify

MainAccount

Logs

MainAccount
Owner
Admin
Developer
Supervisor
Support