Specifying a caller ID for outbound call campaigns
To launch an outbound call campaign, specify your Caller ID first. Caller ID is a phone number that displays when a callee receives an inbound call from Voximplant Kit. A Caller ID can be a purchased phone number, a custom caller ID, or an external number.
Log in to your Voximplant Kit account.
Buy a phone number in the Numbers section.
This option is available for users with the Administrator role.
On the Custom Caller IDs tab of the Numbers section, click Add number and follow the instructions.
After you buy or verify the phone number, specify it as your Caller ID while configuring a campaign.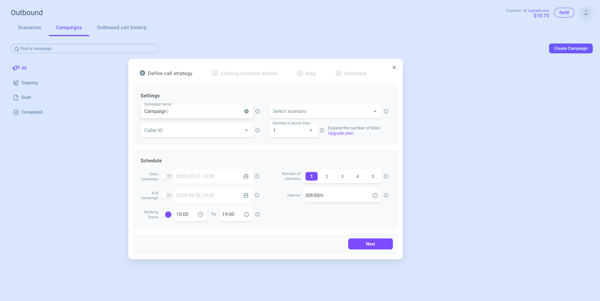 After you launch the campaign, the system displays your Caller ID to every callee.
We recommend that you also set up a call forwarding number where your callees can reach you if they decide to call you back. For more information, go here.
In Voximplant Kit, call forwarding is a chargeable service. Note that in some countries you are compelled by law to provide this service to your customers.