Receiving and handling calls in the cloud
The Voximplant platfrom can accept calls from difference sources: phones, web pages, mobile devices. You can rent a number from us or connect your existing phone number via SIP. In this quickstart, we will rent a virtual phone number accessible as an extension. On the Voximplant control panel, select Phone number on the top menu and then select Buy new phone number in the drop-down list.
The phone number interface will be displayed. Click the Real number switch to change it to "Test number". Then click Buy to buy a virtual phone number.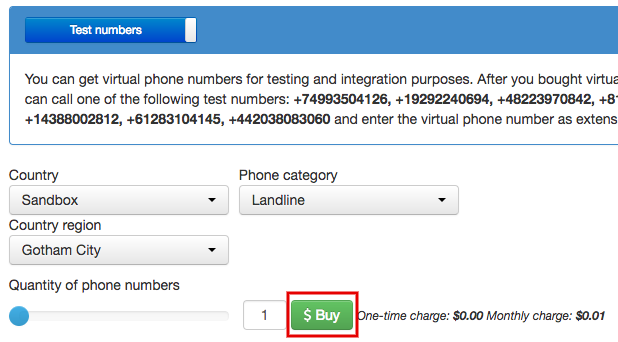 After you've bought a real or virtual phone number, click the Phone numbers top menu again and select My phone numbers in the drop-down list. There you can associate a phone number with the application created in the previous quickstart step so that if the rented phone number is called, your JavaScript code will be executed and a voice greeting will be played:

Now you can call a virtual phone number using one of the access numbers displayed on the page, followed by an extension. When the connection is established, you will hear a synthesized voice that reads your text: this is the Voximplant cloud that has just executed your JavaScript code and carried out your instructions.